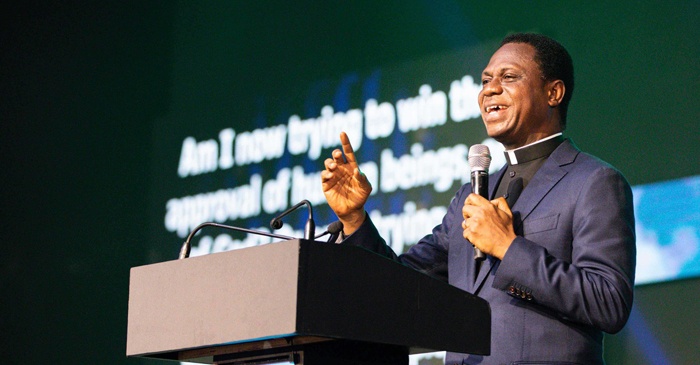 The Chairman of The Church of Pentecost and President of Ghana Pentecostal and Charismatic Council (GPCC), Apostle Eric Nyamekye, has emphasised that Jesus Christ is the only Saviour of the world, and for that matter, all men must come to faith in Him to be saved.
Apostle Nyamekye said this in a live televised sermon on PENT TV during a Special Evening Service on Sunday, April 2, 2023.
Reading from Romans 3:25 and John 4:10, the noted theologian enlightened that Jesus is God's gift to humanity through whom the world must be saved. He, however, cautioned that failure to accept Christ Jesus brings condemnation.
"Jesus is the supreme Saviour of the world and that He is Lord of all and Lord overall," Chairman Nyamekye stressed, adding, "His name is supreme to any other name."
"I want you to establish in your spirit, fix it firm in your mind and in your memory that with Jesus you are secured," he further stated.
Giving exegises of Psalm 9:10, Apostle Nyamekye noted that having the understanding and an in-depth knowledge of the supremacy of Jesus and His name is paramount because it enables one to put their trust in Him as the name 'Jesus' carries tremendous power and brings salvation and deliverance (Acts 4:7-12).
"Those who have apprehended clearly and with certainty that Jesus is the supreme Saviour of the world and that He is the Lord of all and know the authority vested in the name 'Jesus' will put their trust in Him," he highlighted.
He prayed that the Lord would open the eyes of the understanding and wisdom of everyone to better know Jesus and know Him for themselves, saying, "To know is deeper than to see."
He added: "It is not enough to confess Jesus as Lord, but to know the name 'Jesus' as well because any individual who knows His name holds their anchors firm and secure in Him in the midst of storms."
On how to gain knowledge about Jesus, Apostle Eric Nyamekye urged Christians to get closer to Him (Jesus), make time for Him and walk arm in arm with Him.
Report by Emmanuel Nana Nsiah