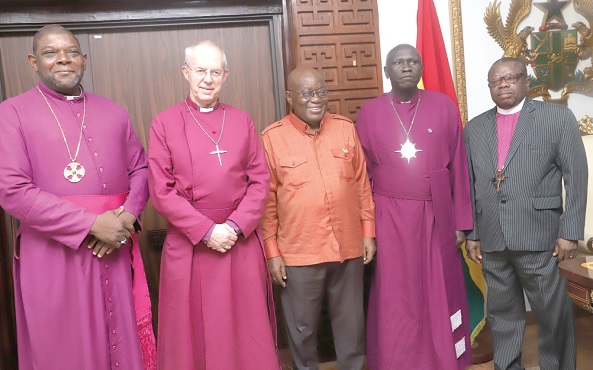 The Anglican Church has announced the commitment of £100 million as its show of remorse for its past involvement in the transatlantic slave trade.
The money will go into investments in various forms in countries such as Ghana and those in the West Indies.
The Archbishop of Canterbury, Most Rev. and Rt Hon. Justin Portal Welby, announced this when he paid a courtesy call on President Nana Addo Dankwa Akufo-Addo at the Jubilee House in Accra last Tuesday.
Most Rev. Welby, the spiritual leader of the Anglican Church, is in the country to attend the 18th Consultative Council meeting of 165 countries and said one of the issues that the meeting had been discussing was human sexuality and identity.
In June 2022, a committee established by the church reported for the first time that the Church Commissioners' endowment had historic links to transatlantic chattel slavery.
The endowment traces its origins partly to Queen Anne's Bounty, a fund established in 1704.
In response to the findings, the Church Commissioners' Board has committed itself to try to address some of the past wrongs by investing in a better future.
It will seek to do this through committing £100 million of funding, delivered over the next nine years commencing in 2023, to a programme of investment, research and engagement.
This will involve new impact investment, grant funding, further research and responsible investment to address and combat modern slavery and human rights violations and to seek to address injustice and inequalities.
A new oversight group will be formed during 2023 with significant membership from communities impacted by historic slavery.
This group will work with the Church Commissioners on shaping and delivering the response, listening widely to ensure this work is done sensitively and with accountability.
Cape Coast
Archbishop Welby indicated that the team would be visiting Cape Coast to learn together with the First Church Commissioner from Barbados, who runs the Finances of the Church of England and is involved in the decision to commit the 100 million pounds.
That amount, he said, would impact investment in those countries as a means of sharing their sorrows of the church's part involvement in slavery.
"We are the first church to do this on international scale as part of the beginning of a long process of engagement which I trust will go well with the Ghanaian government as well as the governments of West Indies", he added.
AU
President Akufo-Addo, for his part, welcomed the interventions on slavery and said Ghana had taken a forward position on reparation.
"In fact, I have had it tabled to be an issue of discussion in Addis Abba this weekend at the AU summit, where we are moving for the establishment of an African reparatory programme and commitment", he added.
That, he explained, would spearhead the discussion on the matter so that the steps taken by those in Africa would be coherent, well thought out and recognise all the implications.
Source: Graphic Online