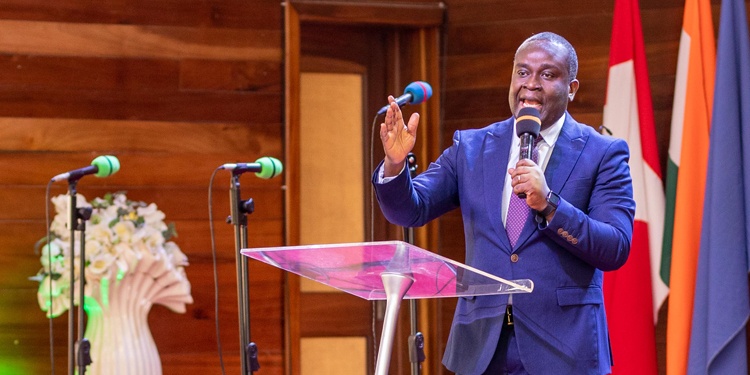 The International Missions Director of The Church of Pentecost, Apostle Emmanuel Agyemang Bekoe, has observed that members are the strength and the greatest resource of the church.
According to him, the 2023 theme of the church: "Repositioning the Local Church for Maximum Impact in the Nations" – Colossians 2:6-7 & 1 Thessalonians 2:19-20, the church intends to focus on the local church which, he said, is the support base of the church.
Speaking at the Pentecost International Worship Centre (PIWC), Sakumono in the Teshie-Nungua Area on Sunday, November 20, 2022, as part of the 2022 Heads' Meeting Apostolisation, the International Missions Director gave an overview of next year's theme.
Reading from 1 Samuel 30:1-6; 23-25 & 1 Chronicles 19:10-15, he said David and his men went to war, and in their absence, their enemies raided their base and took away everything they had.
Referring to 1 Chronicles 19, he said Joab, the army commander, on the other hand, devised a good strategy and deployed Abishai at his back to protect his rare. This, he said, helped them to win the battle.
Apostle Agyemang Bekoe noted that the leadership of the church does not want to lose sight of the schemes of the enemy and, therefore, wants to strengthen its base, thus the local church so that even as the church goes on outreaches, it will equally pay attention on the members, saying, "The same attention given to the fighting force must be given to the support division, which is the local church."
He said that the time has come for the church to be strategic and tactical as it is becoming more nationally and internationally prominent so that the enemy will not take it by surprise.
He mentioned some of the topics to be treated under the theme as: Raising Family Altars to Strengthen the Local Church; Visitation in the Local Church; Encouraging Personal Devotion and Small Groups Prayer Meetings to Strengthen the Local Church; Sacrificial Giving and Tithing; Stoking the Fire of the Holy Spirit – Living in the Fear of God in the Local Church; The Local Church Upholding the Value of Godliness, and Repositioning the Local Church for Evangelism.
Apostle Emmanuel Agyemang Bekoe, who visited with his wife Deborah, ended his ministration with an impartation session, leading the church in prophetic prayers.
Earlier in the service, the Chief Executive Officer of Strategic Communications Africa Limited (STRACOMM Africa), Madam Esther Cobbah, educated the church on the impending Ghana Garden and Flower Show which is expected to take place from December 8-12, 2022 at the Efua Sutherland Children's Park.
She called on Ghanaians, especially Christians to spread the love of God by cultivating flowers in their surroundings to live in a green world which, according to her, is healthier.
Present at the service was the Resident Minister, Pastor Solomon Kyei, and his wife, among others.
PENTECOST NEWS