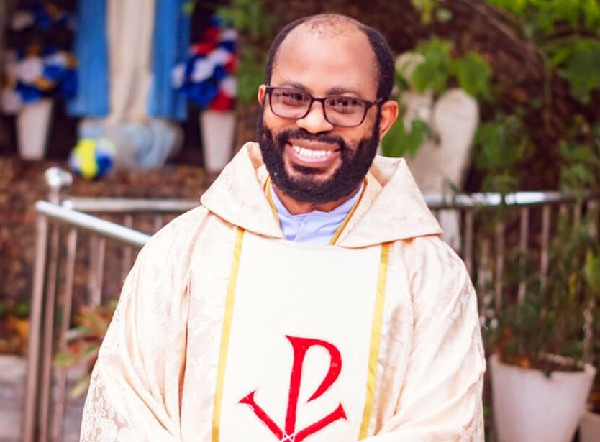 The Parish Priest of the St Kizito Catholic Church at Nima in the Accra Archdiocese, Very Rev. Fr Nicholas Larsey, has appealed to the societies within the church not to antagonise the leadership of the church in their bid to have their say in the management of the church.
As Christians, he said, it was inappropriate for the parishioners to be fighting their priests over issues concerning the church.
He said while Christians were encouraged to speak out when they saw any wrong in society, including the management of the church, that should be done without malice and in a decorous manner and not out of disrespect.
Very Rev. Fr Larsey made the call at the plenary of the Accra East Regional Conference of the Noble Order of the Knights and Ladies of Marshall.
The conference was dubbed: "The Papal concept of synodality: What every Marshallan should know".
Very Rev. Fr Larsey called for peaceful coexistence between the laity and the clergy to build the kingdom of God.
Synodality
A member of the church, Samuel Kingsford Arthur, said the Papal concept of synodality was a complete shift from the past where only the bishops took decisions for the church.
"Traditionally, when a synod is announced, our Ordinaries (bishops) gather, discuss the issues on the table and hand over the decisions to the laity," he said.
He said the concept was to allow the lay faithful to have a say in the issues affecting the church and make recommendations for the bishops for consideration at the next synod.
Mr Arthur was of the view that the Noble Order could also take advantage of the synod to also take a second look at the governance structure and tap into the repertoire of experience within the society for a reform.
He said the Noble Order was awash with professionals that could be used to develop the society by encouraging them to voice their concerns and opinions.
Accordingly, he said, if the church was now opened to asking the lay faithful to speak their minds and come up with ideas in the synod on synodality, then "we as Marshallans should imitate this and make it a part of our training.
"I dare say, too, that being bold and fearless should not mean being disrespectful. If we learn to love one another, be one another's keeper and decorous in our dealings with our brothers and sisters, we can speak up and contribute our quota all for the good of the Noble Order," he added.
Credit Union
In a related development, the Accra East Credit Union Coordinator, Bro. Peter Derry, has commended the members of the order for their continuous support for the credit union since its launch.
He said the credit union had been able to cross the one million cedis assets mark, and expressed the hope that the credit union could soon become a bank.