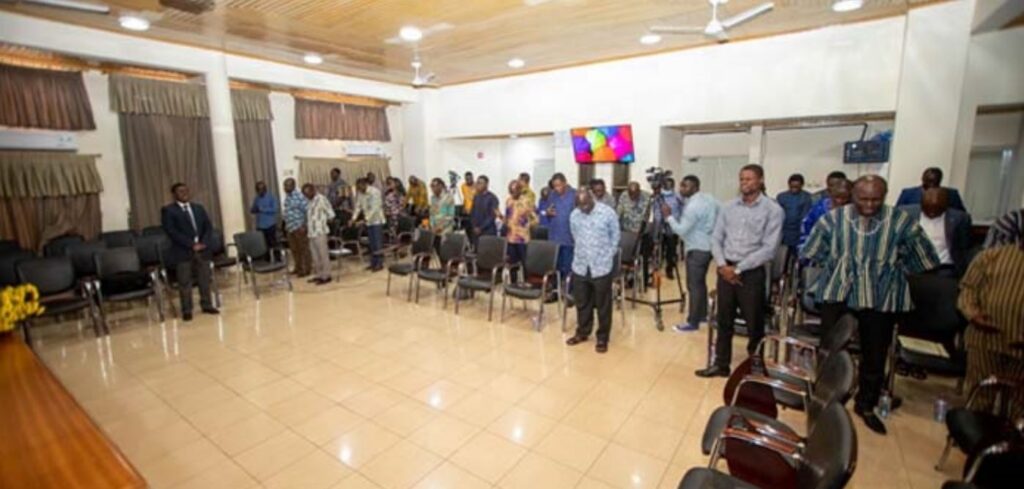 The various Heads of Departments, Sector Heads and Managers of institutions of The Church of Pentecost have undergone a two-day training programme at the Pentecost Pensions House, located at Gbawe in Accra.
The training programme was organised to build the capacity of management to discharge their duties as supervisors and ensure higher staff productivity.
About 60 participants took part in the event, which was held from August 9 to 10, 2022,
Speaking on the topic, "Effective Leadership," a lecturer at the University of Ghana Business School, Professor Kwasi Dartey-Baah, said that leadership is the ability to decide what is to be done and then get others interested in doing same.
He noted that the type of leadership offered to the followers (staff) would determine how far they go as leaders, adding, "In today's world of rapid change, leadership is most crucial to the success of any organisation, either for profit or for non-profit."
According to Professor Dartey-Baah, there are three key elements of leadership that every leader display to his followers in the line of duty.
The Leadership and Organisational Development lecturer explained that leadership is an ability to influence; this involves working with other people and progressing towards some form of goal in an organisation.
"Effective leaders minister without threat or intimidation. He does not try to be someone else and does not try to force others to become what God has not made them to be," he stated, while advising the management to be intentional in building their staff in leadership.
Prof. Dartey-Baah further urged leaders to motivate, delegate, make good team decisions, communicate effectively, and manage the talents of staff in effectively leading the followers.
Other resource persons were Elder Emmanuel Anane Boate (Trustee, The Church of Pentecost), Prof. Ernest Yaw Tweneboah-Koduah (Head of Department, Marketing and Entrepreneurship, UGBS), and Prof. Justice Nyigmah Bawole (Dean, University of Ghana Business School), and Apostle Lawrence Otu Nyarko (Finance & Administrative Director, COP).
Also present were Apostle Alexander Nana Yaw Kumi-Larbi (General Secretary), Apostle Emmanuel Agyemang Bekoe (International Missions Director), Apostle Vincent Anane-Denteh (Executive Council Member and Men's Ministry Director), and Apostle Lt. Col. Benjamin Godson Kumi-Woode (Chaplain, Ghana Armed Forces).
Participants left the retreat empowered with the requisite knowledge and strategies to lead their respective departments and institutions to achieve the vision and mission of the church.
PENTECOST NEWS.