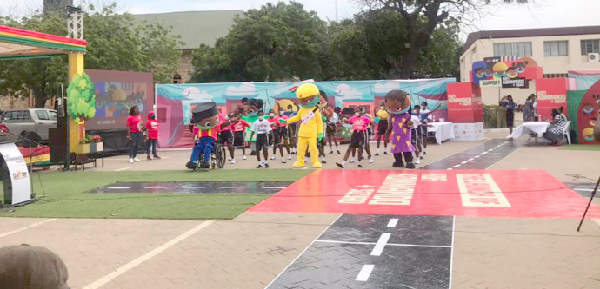 An innovative animation serial that identifies gaps in the Covid-19 communication campaign was launched last Wednesday to educate children on the protocols and protection from the pandemic among other social issues.
The animation aims to educate children on the importance of hand washing, social distancing, the wearing of face masks and other safety protocols of the pandemic to complement the government's effort in the dissemination of information to the public especially children.
Known as Kofi Kommando and Squad (KKS), it would touch on health, social, behavioural change, climate change, water and sanitation that is culturally sensitive to educate young children.
The series explores characters (Kofi, the leader, Adzo, Naa, Keku and Issah) that cut across the major ethnic groups and are a multi-facetted squad of agents who talk about various issues that children can relate to.
It is spearheaded by the Ghana Health Service (GHS) and the Ghana Education Service (GES) with other stakeholders such as UNICEF, Embassy of Denmark, Embassy of Canada, USAID and Mullen Lowe Ghana.
The Director-General of the GHS, Dr Patrick Kuma-Aboagye, said during the public health crisis it was crucial to ensure people knew of the health risk they faced and what actions to take to protect their health and lives.
He said risk communication was a key area in the country's preparedness and response strategy to the COVID-19 pandemic.
"Risk communication and community engagement deal with providing timely and accurate information in languages and channels people understand, trust and use."
"It enables individuals and communities to make choices and take actions to protect themselves, their families and communities from life-threatening health hazards," Dr Kuma-Aboagye stated.
He noted that the launch was part of a bigger plan to employ a more innovative and interactive approach to empower children based on their cognitive abilities using digital technology.
Technology
The Minister of Information, Kojo Oppong Nkrumah, said technology had been on the rise especially in low and middle-income countries such as Ghana that implied that children were becoming computer literate at a very young age.
Despite the global technology advances, he said there still remained digital information desert owing to barriers of technology literacy, language barriers and economic disparity across the social divide.
"The use of audiovisuals ensures information is transmitted much faster, comprehension is enhanced while eliciting emotions that ultimately create memories allowing the learner to imbibe the information deeply and interact with the subject matter long after," he added.
Mr Nkrumah said it was important to create animations that offered Ghanaian children, regardless of their geographical location or economic background, a caricature of common everyday societal, educational, health and developmental issues that allowed them to relate with the cartoon story and characters.
Concept
The Managing Director of Mullen Lowe Ghana, Norkor Duah, said the cartoon would talk about the COVID-19 pandemic, as most children did not have a clear idea of what the virus was about in addition to other viruses.
She said it would tackle health topics such as good nutrition, personal hygiene, hand washing as well as topics on lifestyle, environment and culture to ensure that children were happy to watch KKS.