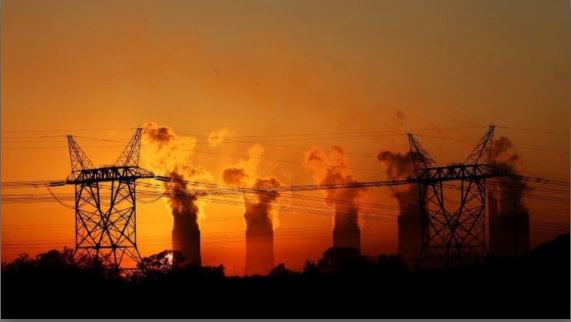 Climate change is causing more than 58% of human diseases to worsen according to a new study.
Climate change is affecting 218 of the 375 diseases studied, bringing people closer to pathogens and weakening their immune systems.
"For instance, failure of the human immune system to adjust to large changes in temperature was suggested as a likely mechanism to explain outbreaks of influenza. Likewise, stress, via changes in cortisol and down-regulation of inflammatory response, can reduce the body's capacity to cope with diseases."
Heatwaves have been linked to an increase in the spread of waterborne diseases such as Vibrio and gastroenteritis, according to researchers at Mamoa's University of Hawaii.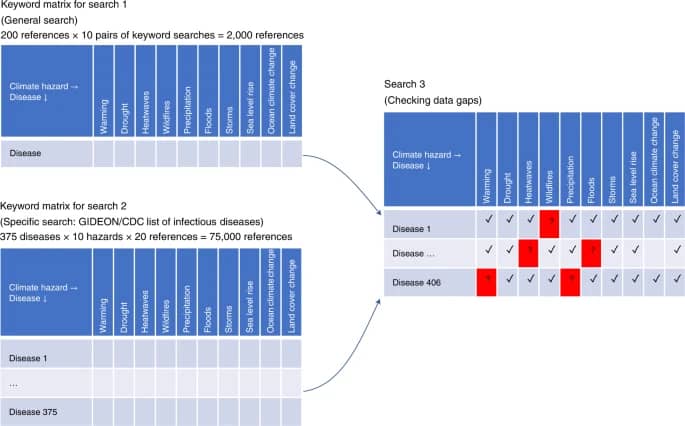 "The compilation of pathogenic diseases aggravated by climatic hazards represent 58% of all infectious diseases reported to have impacted humanity worldwide (that is, out of an authoritative list of 375 infectious diseases documented to have impacted humanity, 218 were found to be aggravated by climatic hazards," the research said.
It was discovered that, "warming at higher latitudes allowed vectors and pathogens to survive winter, aggravating outbreaks by several viruses (for example, Zika, dengue). Habitat disruptions caused by warming, drought, heatwaves, wildfires, storms, floods and land cover change were also associated with bringing pathogens closer to people."
Researchers discovered that global warming affects diseases caused by viruses, bacteria, animals, fungi, and plants.
Storms, floods, and sea level rise have also been linked to the spread of diseases such as cholera, pneumonia, typhoid, hepatitis, and respiratory disease, as well as skin diseases.
Warming, drought, heatwaves, wildfires, extreme precipitation, floods, storms, and sea level rise are among the ten climatic hazards exacerbated by greenhouse gas emissions on human diseases, according to the researchers.
The research paper titled, "Over half of known human pathogenic diseases can be aggravated by climate change" published on nature on Monday August, 08, 2022, analyzed over 70,000 scientific papers for examples of direct links between known diseases and climate change.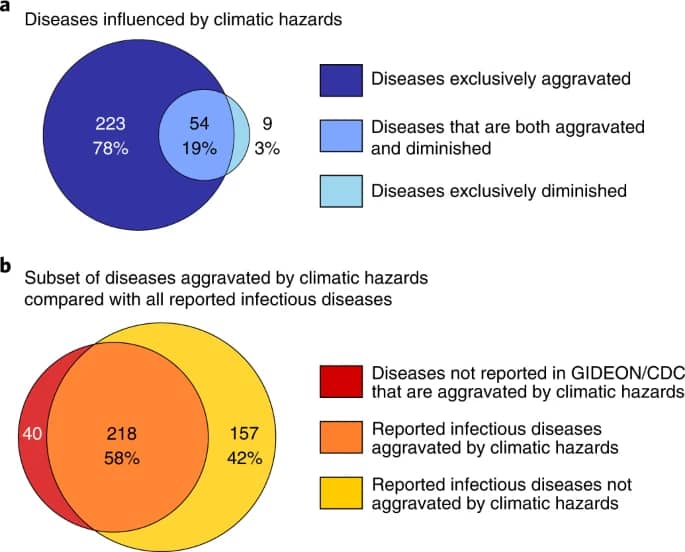 It was stated, "empirical cases revealed 1,006 unique pathways in which climatic hazards, via different transmission types, led to pathogenic diseases. The human pathogenic diseases and transmission pathways aggravated by climatic hazards are too numerous for comprehensive societal adaptations, highlighting the urgent need to work at the source of the problem: reducing GHG emissions."
The authors concluded that 277 human pathogenic diseases, including 58% of all infectious diseases known to have impacted humanity in recorded history, can be exacerbated by a wide range of climatic hazards caused by ongoing GHG emissions.
For the study, there are over 1,000 different pathways in which a variety of climatic hazards resulted in disease outbreaks caused by a taxonomic diversity of pathogens via different transmission types. The sheer number of pathogenic diseases and transmission pathways exacerbated by climatic hazards revealed the magnitude of the human health threat posed by climate change and the urgent need for aggressive GHG emission reduction measures.