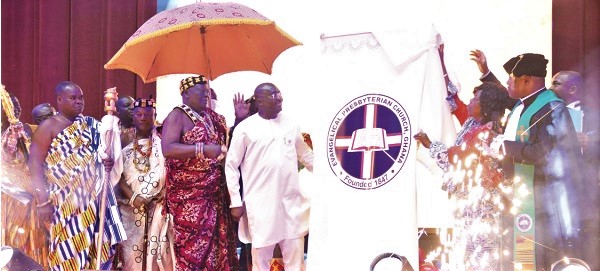 The Evangelical Presbyterian (EP) Church has launched its 175th anniversary, with a call on members to sacrifice for and commit their resources to ministry.
The launch, which took place in Accra yesterday on the theme: "A journey of 175 years in ministry — Achievements, challenges and the way forward", brought together key personalities of the state, including the Vice-President, Dr Mahamudu Bawumia.
Ministry
The Moderator of the General Assembly of the church, Rt Rev. Dr Lt Col Bliss Divine Agbeko, who made the call, said the ministry was doing good and helping the needy in society.
"God keeps records of human goodness and generosity towards the ministry of Jesus, which is meant to liberate people and help the down-trodden and also help solve the needs of humanity and society. And that is what ministry is about," he explained.
He admonished Christians to practise kindness and generosity, adding that it was the only way God would bless the work of their hands with more wealth.
Agent of transformation
The Vice-President, for his part, said the EP Church had been a reliable, trusted and formidable agent of transformation, civilisation and progress of society.
"The gains we have made as a nation, pre- and post-independence, in moral, spiritual and socio economic development would not have been possible without the key involvement of the church. We cannot mention any monumental contribution to nation-building without recognising the important role of the EP Church of God," he said.
He said the Presbyterian mission was a key part in the multi-faceted development of the country, adding that there was no doubt that the church, and for that matter Christianity, had played a vital role in the emergence and development of formal education in the country.
"It is on record, for example, that the pioneer missionaries rolled out several socio-economic initiatives such as clinics, hospitals, schools, agricultural stations, among others, that complemented the work of the colonial administration in developing the nation," he said.
Dr Bawumia said it was refreshing that the theme for the anniversary was focused not only on achievements but also took cognisance of the challenges faced.
"As you, therefore, work on the strategies to address your challenges and strategise for the way forward in the decades ahead, may we all pool our collective nationalistic efforts to rebuild our nation and recover from internal and external devastations that affect our economy," he said.
Integrity
A Senior Clergyman of the EP Church, Rev. Dr Setri Nyomi, urged members of the church, both young and old, to be full of integrity, hard work, productivity and discipline wherever they found themselves.
"As we move forward, and as the way forward, let us get our priorities for life right and let us live in a way that we are constantly declaring the name of our Lord to our people and in the assembly we are praising God," he added.