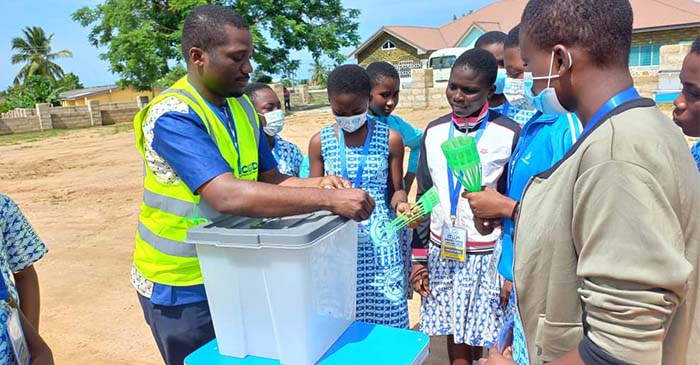 The Electoral Commission (EC) of Ghana on Friday, June 17, 2022, organised and supervised the 2022/2023 academic year elections of Pentecost Preparatory School, Ansaful (PPS-Ansaful) at the school premises.
This historic event was held under the auspices of Apostle Samuel Out-Appiah (Winneba Area Head, The Church of Pentecost), Elder Ishmael K.A. Otabil (Headteacher, PPS-Ansaful), and Pastor Kwao Dosu (Manager, PPS -Ansaful)
According to Elder Ishmael Otabil, the motive of involving the EC in the school's elections is to train and educate students on democratic governance and the act of exercising their franchise.
He further noted that nomination forms were declared about a month ago, and 11 students picked up forms for various positions.
Before the start of the voting process, the various aspirants shared with the students and staff their manifesto.
Elder Otabil urged the aspirants, students, and other staff to seek for peaceful and healthy election to prove to the whole community and country that the school is a mission school and the election is about choices and not chaos.
After a successful voting process, the EC officials declared the results amidst wild jubilation and cheers from the students.
The winners were: David Aidoo (School Prefect), Emmanuel B. Arthur (Assistant), Erica Buah Odoom (Girls Prefect), Jessica Aglubi (Assistant), Kwabena Saah (Sports Prefect), Samuel kweikuma (Assistant), Florence Akorusu (Girls Sports Prefect), Charity Asabea (Compound Overseer), and Grace Akoa (Assistant).
The newly-elected prefects were prayed for to be endowed with strength, wisdom and knowledge to execute the task as expected. The school staff also took them through an orientation to make them more effective and efficient.
Apostle Samuel Otu-Appiah extended his warmest felicitations to the students and the school management for conducting the 2022/2023 academic year school prefects' election in such an unprecedented manner.
Report by Pastor Isaac Sunkwah Nekasen, Gyahadze District