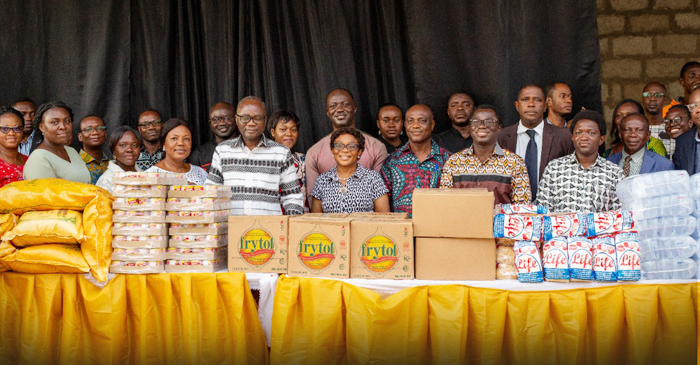 The Asokwa Area of The Church of Pentecost, under the leadership of Prophet James Amaniampong, has donated food items to the Kwame Nkrumah University of Science and Technology (KNUST) branch of the Pentecost Students and Associates (PENSA) and the KNUST Food Bank to support the welfare needs of students.
The items, worth GH¢ 75,000.00, included 80 bags of rice, 20 packs of sardine, 20 boxes of mackerel, 30 packs of 1-litre oil, 30 boxes of tomato paste, 30 boxes of milk, 500 packs of gari, 20 boxes of Milo, 30 packs of Yazz sanitary pads, 20 boxes of Voltic water, 100 bags of sachet water, among others.
Present at the brief presentation ceremony on Sunday, June 26 2022, at the PENSA-KNUST building site grounds at Ayeduase, were the Asokwa Area pastorate and their wives, some officers of the church and their spouses, representatives of KNUST staff, the University Relations Officer and his team and about 200 members of PENSA-KNUST
Addressing the gathering at the event, Prophet Amaniampong said that the Lord laid it on the heart of the Area leadership to visit PENSA-KNUST and use the opportunity to extend brotherly love to those who, for one reason or another, may be in need.
"We cherish you and appreciate your efforts and seriousness. We have followed your performances as a church, and we are proud of you. We will continue to pray with you for success in all your disciplines," he said.
The area also donated food items to the KNUST food bank. The donation was received on behalf of the university by Mrs Theodora Oduro, the Senior Assistant Registrar, Student Affairs. She expressed gratitude for the generous gesture, describing it as a timely intervention.
"Over 1,200 people applied for the Food Bank last semester, but we could only serve 500 people," she remarked, adding that the donation would greatly ease the burden on her office.
Pastor Jonathan Ebo Quaye, the KNUST Resident Campus Minister of the Church, and Elder Francis Amihere (PENSA-KNUST President) accepted the donation on behalf of PENSA-KNUST; they were grateful to the leadership of the Asokwa Area for this kind initiative.
Present to grace the occasion were Apostle Dr. Joseph I.T Buertey (Resident Minister, PIWC-Asokwa), Pastor Lt. Franklin Kumi-Lartey, Pastor Peter Blood Asante (Resident Minister, PIWC- Kotei), Pastor Johnson Asiedu (Ahinsan Estate District Minister), Pastor Samuel Engman (Esreso District Minister), Pastor Boakye Yiadom (Ahinsan District Minister), Pastor Kyei Mensah (Gyinyase District Minister), Pastor Benjamin Kwarifa (Kaase District Minister), Pastor Ebo Dadzie (Abidjan Nkwanta District Minister), Elder Dr. Isaac Okyere (Asokwa Area Executive Member) and Elder Omane Siaw.
Also in attendance were Mrs Georgina Amaniampong (Wife of Asokwa Area Head), Mrs Joanna Dwomoh Quaye (Wife of PENSA KNUST Campus Pastor), Mr Charles Ankah (Directorates of Needy Students) and Dr. Pearl Adu Nyarko (KNUST Staff)
Report by PENSA-KNUST Media Team