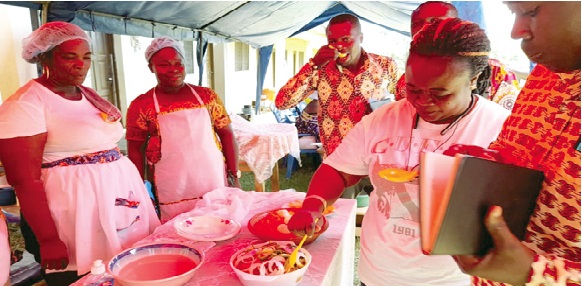 The Twifo Hemang Lower Denkyira (THLD) District office of the Centre for National Culture (CNC) has organised its maiden Food Exhibition and competition on the theme; "Our food, our lifestyle" at Twifo Hemang.
Participating in the competition, aimed at preserving the nation's indigenous dishes, were the Market Women Association, Ghana National Tailors and Dressmakers Association, Hairdressers and Beauticians Association and Palm Oil Producers Association, all from the Twifo Heman Lower Denkyira District.
Among indigenous dishes on display were fufu and palm nut soup, ampesi with kontomire, aprapransa and ԑtᴐ.
In his welcome address, the District Cultural Officer, Patrick Ablewu, indicated that the motive for the contest was to create the platform to illustrate indigenous healthy foods and to create further awareness of and attention to healthy eating habits that would lead to healthier lifestyles.
Reintroduction
He observed that some indigenous foods such as piiwa, aprapransa, ebunebun, ampesi, among other nutritious indigenous cuisines, were fast going into "extinction" and must be re-introduced into the family value system to promote healthy living.
For her part, the acting Regional Director of CNC, Dorcas Salamatu Alhassan, commended the district for the initiative and expressed optimism that the district assembly and other stakeholders would support the sustainability of the Food Expo.
She emphasised hygiene as one of the key securities to healthy eating and advised all to keep their environments clean.
Madam Alhassan indicated that even though there were perceptions that COVID-19 was non-existent, there was the need for all to abide by the safety protocols and at least ensure constant handwashing and the use of sanitisers as precautionary measures.
The District Director of Agriculture, Oware Ampomah, expressed concern about the fast pace at which investments in cocoa farming, palm plantations and rubber estates were far outweighing the planting of food crops and called for the cultivation of food crops to avert possible food shortages in the country.
He encouraged all to engage in cultivating backyard gardens to support their livelihoods.
A representative of the District Health Directorate, Seth Opoku, shed light on healthy foods and eating habits and urged all to adopt healthy eating lifestyles.
The Ghana National Tailors and Dressmakers Association emerged winners at the end of the competition. All other participating groups received consolation prizes.
Source: Graphic Online