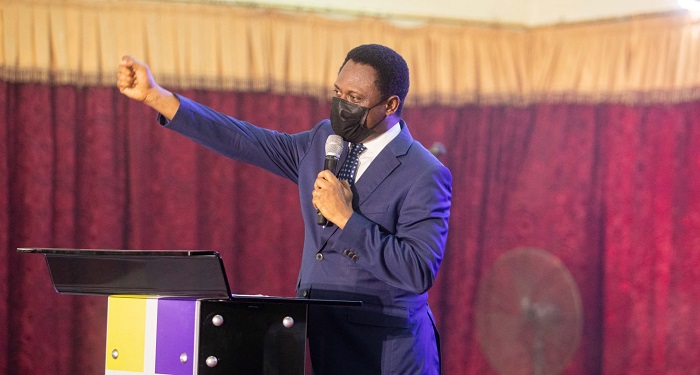 The Chairman of The Church of Pentecost, Apostle Eric Nyamekye, has called on church leaders and parents to wholly embrace and ensure the successful implementation of the Jethro Initiative (JI) of the Children's Ministry (CM), stressing that the novelty is here to stay.
Speaking at the official launch of the initiative yesterday, Apostle Nyamekye said that the JI is one of the major interventions of the Children's Ministry approved by the Executive Council of the Church.
He said that the new world order, which is characterised by the increasing rise of secular humanism, lack of parental attention for children as well as the lack of capacity of most parents with respect to technology in nurturing of the present-day child, among others, has necessitated the introduction of the Jethro Initiative.
He stated: "Over the last 50 years, a lot has been done by the church to nurture godly children. However, the changing times creates more challenges and, thus, the need for a review and shift in approach. This new dispensation calls for a new type of Christian children and a new approach to the raising of our children."
"JI is intended to raise godly transformational future leaders; make the study of the word of God fun and innovative as well as nurture and maintain the love of children for church attendance and participation," he further stated.
The Jethro Initiative, which has as its slogan "Nurturing unto Godliness," is an extra-curricular programme of the Children's Ministry aimed at complementing and strengthening the activities of the Sunday Schools in building the foundation of children in Christ and His word and entrenching them on the need to walk in the Faith.
According to the Chairman, JI would also help create an opportunity for effective evangelism among children in their communities, inculcate a high sense of civic responsibility and patriotism in them; promote their holistic growth and development, encourage them to learn social skills, resilience, resourcefulness and empathy, and promote teamwork and unity.
He was also hopeful that, through this initiative, the "Possessing the Nations" agenda would remain relevant and sustainable from generation to generation, particularly to the next generation of Christians.
To achieve the intended JI objective, the Chairman urged CM workers to have a closer relationship with God in this renewed effort to raise and nurture godly children. He also advised them to update their knowledge in current trends and happenings in order to meet the social, spiritual, emotional and intellectual needs of the children.
Apostle Nyamekye, thus, reiterated that children are the most vulnerable members of society and therefore require special attention to guide, guard and nurture them into responsible, mature and effective Christian adults who can transform their spheres of influence with Kingdom values and principles.
"All stakeholders in child development like parents, the church and the community must, therefore, get involved as we seek to promote the holistic growth and development of our children," he charged.
PENTECOST NEWS.