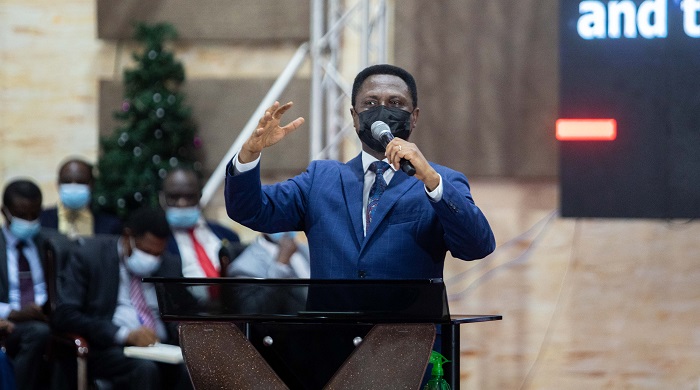 Unpaid Officers of The Church of Pentecost, who are the custodians of the church at the local level, have been advised to continue with their services to God and church since their efforts in the Lord would not be in vain.
Apostle Eric Nyamekye, Chairman of The Church of Pentecost, gave the assurance when addressing Officers in the Teshie-Nungua Area on Wednesday evening [January 12, 2022]. The meeting, which was attended by Elders, Deacons and Deaconesses in their numbers as well as ministers and their wives in the Area, took place at the Fred Stephen Safo Memorial Temple at Nungua-Nshorna in Accra.
The Chairman revealed that God always rewards faithful service and that anyone who does something good for God and His church receives the appropriate blessings from Him in due course.
Taking his main scripture reading from Matthew 19:27-29, he postulated that Apostle Peter's question to Jesus about their rewards for following Him was legitimate, else Jesus would not have answered him.
Also reading from Hebrews 11:6; Matthew 25:14-30; 2 Corinthians 8:20-21, he entreated officers of the church to continue to serve with a faithful and honest heart so as to attract God's manifold blessings into their lives.
Quoting from Exodus 18:21-22, he eulogized officers for being indispensable pillars around which The Church of Pentecost has been built. He held that the church has grown to this enviable height due to the selfless services of officers.
The Chairman however charged them to strive to develop their skills (ability to teach), attitude (the best way to react and respond to issues), and then their character. This, when done, he stated, would make officers of the church more capable, effective, and efficient for the task.
To help sustain the inner joy in doing the work of their Master (Psalm 100:1-2; Nehemiah 8:10), Apostle Nyamekye stressed the need for officers to continue to build themselves up in the Lord by committing themselves to constant prayer and the study of the Word.
The meeting, which was hosted by the Area Head, Apostle Wilberforce Nkrumah Agyeman, was also used for intercessory prayers for officers, the vision of the church, and the nation.
Also present were Apostle (Lt. Col.) Benjamin Godson Kumi-Woode (Director Religious Affairs, Ghana Armed Forces), Apostle Lawrence Otu Nyarko (Finance and Administration Director of the church), and Prophet Fred Antwi (Baatsona District Minister) and their wives, among others.
PENTECOST NEWS.