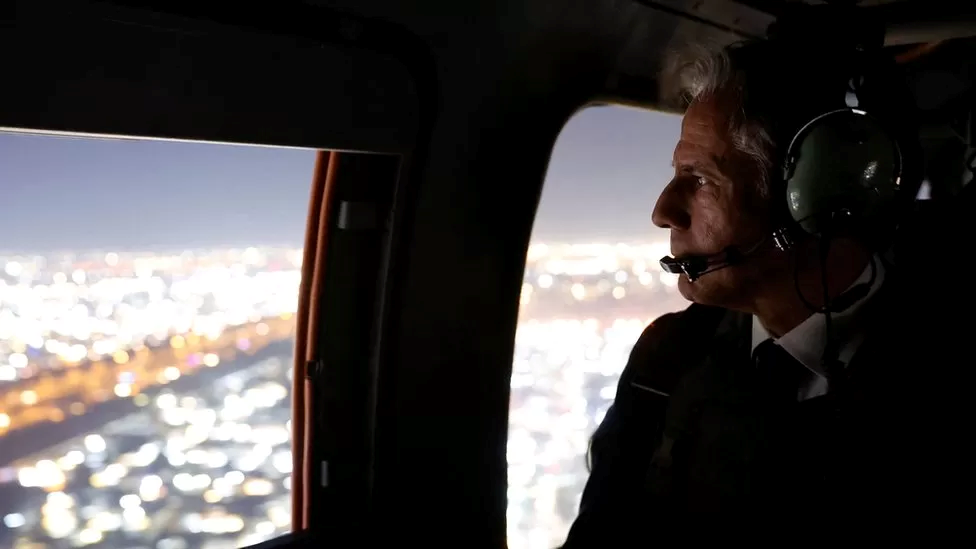 For three days, the US's top diplomat, Antony Blinken, has been dashing around the Middle East, trying to contain a situation that threatens to spin out of control.
Israel on Friday. Jordan on Saturday. The West Bank, Iraq and Turkey on Sunday.
Every stop posed its own challenges and gave reason to be pessimistic that much progress is being made. The central challenge facing the US secretary of state is that he is trying to find a middle ground where none, at the moment, exists.
On Friday, Mr Blinken encouraged Israeli leaders to make temporary pauses in hostilities in order to ease humanitarian aid and encourage hostage releases – a move the Israeli prime minister quickly rejected.ADVERTISEMENT
The next day, he met representatives of Israel's Arab neighbours. They all called for an immediate ceasefire. Jordanian Foreign Minister Ayman Safadi said Israel was committing war crimes.
At roughly the same time back in the US, President Joe Biden was asked whether progress was being made toward securing those humanitarian pauses. He gave a thumbs up and replied "good".
The president's optimism stood in stark contrast to the mood on the ground here in the Middle East.
As if to underscore the tension in the region, Mr Blinken's Sunday stops were done under cover of secrecy. He travelled to Ramallah to meet with Palestinian Authority President Mahmoud Abbas in a convoy of armoured SUVs and vans, speeding through streets cordoned off by soldiers from the Palestinian Palace Guard.
He arrived in Iraq under cover of darkness. The secretary and his diplomatic entourage donned body armour and helmets for the short helicopter ride from the Baghdad airport to the US embassy, where he then motorcaded to a meeting with Prime Minister Mohammed Shia' Al Sudani.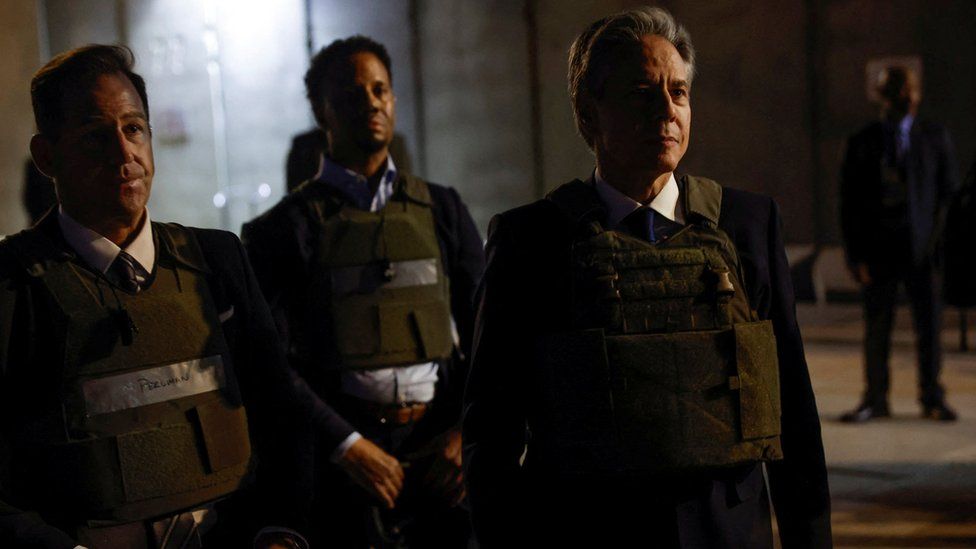 On Monday, he will meet Turkish officials – just one day after Turkey's President, Recip Erdogan, recalled his country's ambassador to Israel and said he was done dealing with Mr Netanyahu. "We have erased him, thrown him out," the Turkish leader said.
Every time Mr Blinken puts one fire out, another seems to pop up.
I asked Mr Blinken at the Baghdad airport if he shared the US president's optimism about the chances of convincing Israel to agree to pauses and in getting the Arabs to accept that a ceasefire is unrealistic at this point.
He said yes to both.
The Americans are continuing to work with the Israelis to address concerns about the "specifics and the practicalities" of how humanitarian pauses could be implemented.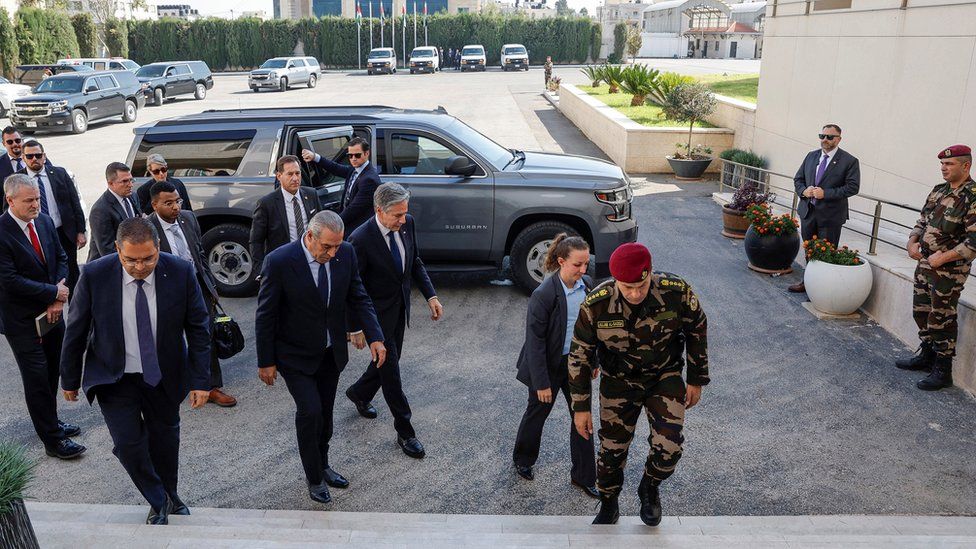 As for the Arabs, he said there were differences of opinion on a ceasefire, but everyone he had spoken with believed humanitarian pauses could help win the release of hostages, increase aid distribution in Gaza and expedite getting foreign citizens out of Gaza.
"We've had important progress there in recent days," he said, but "there are also real complications that come along with it."
For the moment, however, no one seems to be buying what Mr Blinken is selling, in part because both the Israelis and the Arab nations are dealing with their own domestic pressures pulling the two sides apart.
On Friday, as Mr Blinken stood before press cameras with Israeli President Isaac Herzog in central Tel Aviv, chants and horns could be heard – the sound of Israeli protesters calling for the government to do more to rescue the hostages taken by Hamas on 7 October.
"Our heart goes out to them," Mr Herzog said.
Meanwhile, in countries across the region – and in Europe and the US – pro-Palestinian protesters have taken to the street en masse. Demonstrators climbed the fence outside the White House in Washington DC and filled the streets in Paris, London and Berlin.
In Istanbul, protesters held up a sign that called Mr Blinken "an accomplice of the massacre".
If a positive spin can be put on Mr Blinken's trip so far, it's that he is speaking with all sides and, for the moment, the conflict has not spread. After Joe Biden's October meeting with Arab leaders in Jordan was abruptly cancelled following the explosion at a Gaza hospital, Mr Blinken's foreign minister gathering on Saturday was an indication of some progress.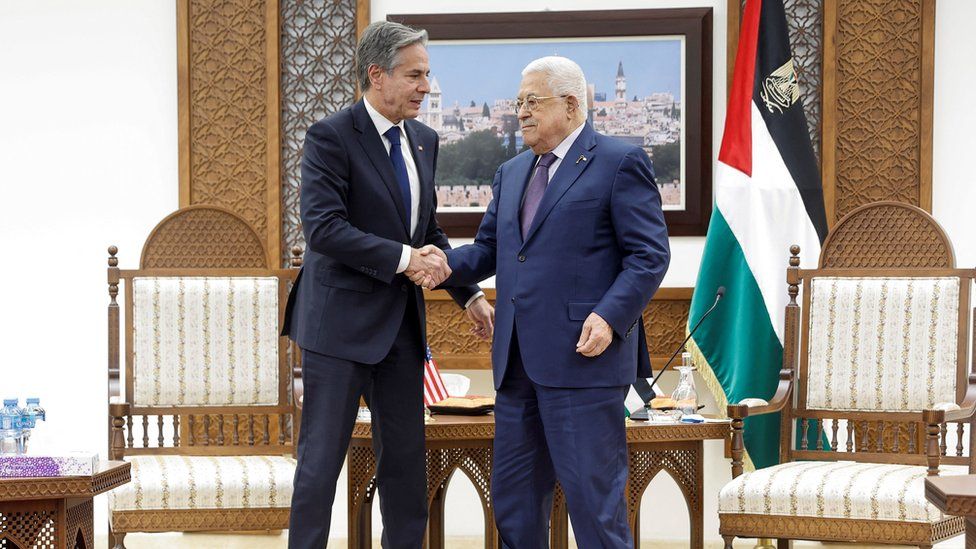 However, the secretary of state's attempts to encourage his Arab counterparts to start thinking about the long-term future for the Palestinians, and a means to ensure a "durable" peace in the region, were less successful.
"How can we even entertain what will happen in Gaza when we do not know what kind of Gaza will be left after this war is done?" Jordan's Mr Safadi asked. "Are we going to be talking about a wasteland? Are we going to be talking about a whole population reduced to refugees?"
In a meeting with Jewish community leaders at the White House on 12 October, Joe Biden said he thought that the end result of the tragedy and bloodshed in Israel and Gaza would be a Middle East that was changed for the better.
"But then again, I have been referred to as a congenital optimist," the US president added.
On the ground here in the region, such optimism has proven to be a rare commodity.
Source: bbc.com