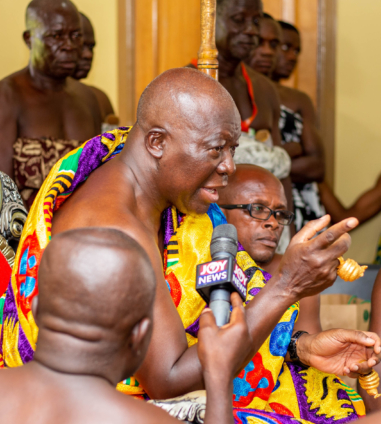 The Asantehene, Otumfuo Osei Tutu II, has chastised the self-acclaimed queen mother of Anyenyere, a suburb of Atwima over false entitlement to stool lands in a long-standing chieftaincy dispute.
Appearing before the Asantehene at the Manhyia Palace, the woman claimed to have assumed the role of queen mother of Anyenyere because the stool and lands in the area were bequeathed to her by her late husband.
The woman alleged that the opposing party who are descendants of the Oyoko clan had taken stool lands left under her care by her late husband.
The Asantehene, however, rebuked the queen mother for peddling lies while questioning her authority to claim ownership of the stool and its entitlements.https://cdn.vuukle.com/widgets/quiz.html?version=1.11.11Advertisement
Otumfuo was angered by her narration and accused her of fabricating lies in his presence. He debunked her claims and described it as "a stupid act".
"Stop acting stupidly because you are no queen. Who will peddle such lies before me as a queen mother under my leadership? Your claims are untrue," said the Asantehene.
The woman was later removed from the presence of the Asantehene with her slipper taken off, signifying her destoolment.
Source: myjoyonline.com