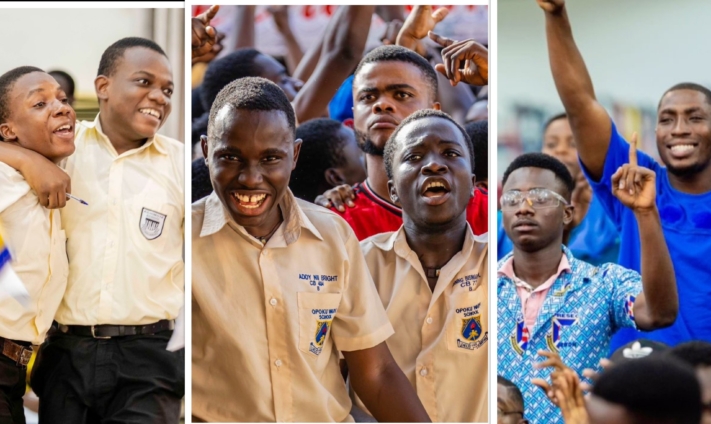 On Thursday, October 19th, avid fans of the National Science and Maths Quiz (NSMQ) were treated to a thrilling spectacle featuring three nail-biting contests, involving nine schools.
In these high-stakes showdowns, three schools emerged victorious and secured their spots in the highly anticipated 2023 finals.
They are the seven-time champions, Presbyterian Boys SHS, the two-time titleholders Achimota School, and the equally illustrious two-time champions, Opoku Ware.
Achimota School faced an intense trial in a challenging showdown against formidable opponents Wesley Girls and St Louis SHS during the Thursday morning clash. https://cdn.vuukle.com/widgets/quiz.html?version=1.11.9Advertisement
In a gripping battle, Achimota School emerged triumphant with a commanding 41 points, after establishing a significant 10-point lead in the final round.
Opoku Ware, on the other hand, faced their Kumasi rivals Prempeh College and Pope John Seminary, enduring their most arduous battle since the competition's inception.
In a historic victory, they outshone their Kumasi counterparts for the very first time winning their contest with 38 points, two points more than their opponents.
The last semi-final match witnessed a daunting contest between Presec Legon, Mfantsipim School and Keta SHS.
In a gruelling battle of wits, Presec emerged as the ultimate victor, earning their place in the grand finale set to take place on Tuesday, October 31.
As the tension builds, the question on everyone's minds is: who will ultimately emerge as the victor?
Will it be the seven-time champions or the two-time titleholders? Only time will reveal the answer to this eagerly awaited question.
The 2023 National Science and Maths Quiz is produced by Primetime Limited and sponsored by the Ghana Education Service in partnership with Goil PLC and supported by A.T, Prudential Life Insurance Ghana, and Pepsodent.
The broadcast of the National Science and Maths Quiz on JoyNews and Joy Prime is supported by Vitamilk, NASCO, German Ozone Medical Center, Royal Foam, Jamaa Soap, Heritage Christian College, Virtual Security Africa, Ace Medical Insurance, Chopbox Technologies, Sintex Tank, DBS, New Crystal Health Services, INVEST CORP, Built Financial Technologies, Beta Malt, Bright SHS Kukurantumi and Family Health University College.
Source: myjoyonline.com