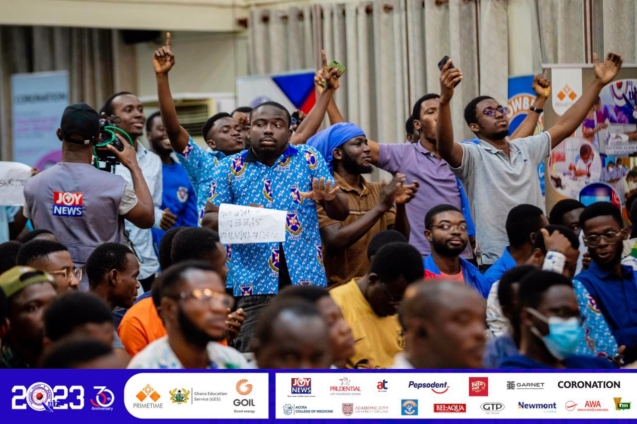 Before the climactic quarter-final contest of the 2023 National Science and Maths Quiz (NSMQ), Presec Legon's supporters were confident they would secure the last semi-final slot with ease.
However, Tuesday night witnessed a fierce clash of intellect and knowledge, challenging their expectations, as they faced formidable opposition from Accra Academy and G.S.T.S.
Round one of the competition unfolded in an atmosphere overflowing with anticipation and excitement.
Presec Legon emerged from the first round with 28 points, maintaining a slight lead, while Accra Academy closely followed with 26 points. On the other hand, G.S.T.S accumulated 11 points.
Accra Academy displayed their determination, refusing to concede defeat easily in the second round.
Despite their strong efforts, they finished the second round seven points behind Presec, accumulating a total of 33 points.
In round three's "problem of the day" Presec secured seven points, while their opponents managed to score five points each.
Unfortunately, round four proved to be challenging for Accra Academy, providing Presec with an opportunity to extend their lead or face potential upset.
Presec seized the moment, amassing a total of 60 points, while Accra Academy and G.S.T.S trailed with 48 and 31 points, respectively.
Accra Academy sought to prove themselves in the final round scoring 10 more points from answering the riddles. However, despite their efforts, they were unable to surpass Presec, who secured an additional three points to clinch victory.
Accra Academy's performance in this quarter-final contest earned them well-deserved applause from the quiz mistress. 
As 2023 quarter-finalists, they, alongside G.S.T.S, have already secured a spot in the 2024 edition of the competition.
Looking ahead, the anticipation for the next showdown intensifies as Keta SHS, Mfantsipim School, and Presec Legon prepare to engage in a contest that promises to captivate spectators on Thursday, October 19. 
The 2023 National Science and Maths Quiz is produced by Primetime Limited and sponsored by the Ghana Education Service in partnership with Goil PLC and supported by A.T, Prudential Life Insurance Ghana, and Pepsodent.
The broadcast of the National Science and Maths Quiz on JoyNews and Joy Prime is supported by Vitamilk, NASCO, German Ozone Medical Center, Royal Foam, Jamaa Soap, Heritage Christian College, Virtual Security Africa, Ace Medical Insurance, Chopbox Technologies, Sintex Tank, DBS, New Crystal Health Services, INVEST CORP, Built Financial Technologies, Beta Malt, Bright SHS Kukurantumi and Family Health University College.