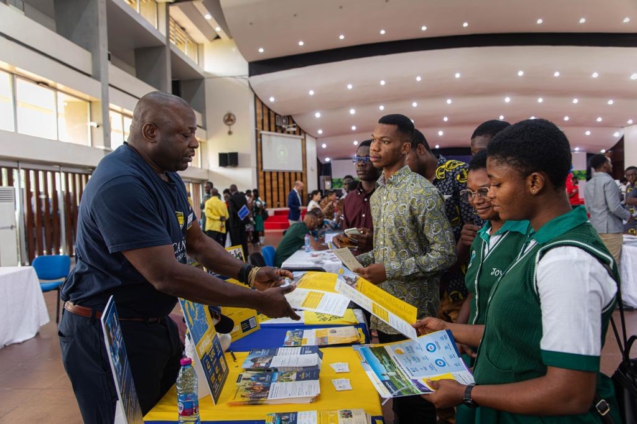 The U.S. Embassy has reemphasised its commitment to supporting many West African youth to realise their dreams of furthering their education in world-class colleges/universities in the United States.
In a maiden Education Fair held in Kumasi, the embassy through its educational consult, EducationUSA, hosted nearly 30 U.S. universities and colleges to provide academic solutions to students.
The move is to increase the admission of qualified Ghanaian students into US-based schools.
The 2022 Open Doors Report confirmed that 4,916 Ghanaians studied at U.S. colleges and universities, across all 50 States during the 2021-22 academic year.
This represents a 16% increase over the previous year and continues the long-term growth trend among Ghanaian students.
Speaking at the College Fair Opening Ceremony, Cultural Affairs Officer Laneice Brooker reassured of the embassy's commitment to assist more prospective students in the US.
"Even though Ghana was one of the few countries to see an increase in the number of students who went to the United States to study in the last academic year during the pandemic, we aren't satisfied and are working to see those numbers increase even more," she said.
Ghana is the second highest sender of students to the United States from Sub-Saharan Africa, only behind Nigeria.
Ghana now ranks 18th globally for sending graduate students to the United States.
Thousands of students from secondary and tertiary levels of education in the region inundated the Great Hall of the KNUST to seek guidance for admission.
From understanding the nitty-gritty of college applications to means of acquiring great scholarships, the students met advisors from various universities to enhance their chances of admission into schools.
Laneice Brooker emphasised the embassy's openness to welcome students of diverse intellectual and cultural backgrounds.
"Our universities and colleges are eager to welcome more Ghanaian students because of the diversity – both intellectual and cultural – they bring to their U.S. classrooms," she said.
Speaking on behalf of the Vice-Chancellor of KNUST, Provost of the College of Humanities and Social Sciences, Professor Charles Marfo reiterated the need for one to invest their resources into furthering their education to a higher level.
"Consider as the last step in the formal education ladder, higher education is critical to the development of any nation. It offers experiential learning opportunities. It shapes people's thinking and provides international exposure and opportunities for high-level research and personal growth," he said.
In the last year, EducationUSA in Accra and Kumasi has guided thousands of Ghanaian students to apply to universities and colleges in the United States.
Advisors at the centre helped many students secure admissions across hundreds of accredited institutions of higher learning and facilitated $7 million in financial aid and scholarships.
The Education fair will be replicated in city centres in two other West African countries including Nigeria and Côte d'Ivoire
Source: myjoyonline.com