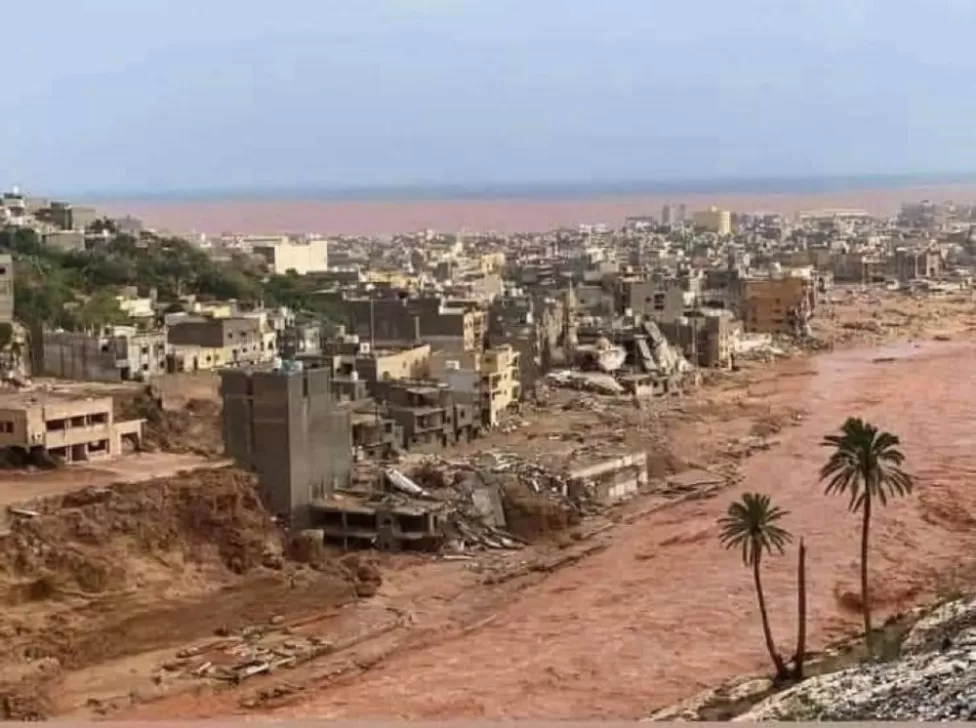 At least 200 people have died after a powerful storm caused flooding in Libya, the Libyan Red Cross has said.
However, the leader of the east Libya government, which is not recognised internationally, said deaths "exceed 2,000".
Storm Daniel made landfall in the North African nation on Sunday, prompting authorities to declare a state of extreme emergency.
Seven Libyan army personnel have gone missing during ongoing rescue efforts.
Officials in eastern Libya have imposed a curfew, while schools and shops have been ordered to close
The eastern cities of Benghazi, Sousse, Derna and Al-Marj have been impacted by Storm Daniel.
As well as the rising death toll, the Libyan Red Cross issued a statement saying that at least 150 homes have been destroyed.
The head of the Red Crescent humanitarian network said at least 150 deaths had occurred in Derna alone, according to news agency Reuters.
Two dams in Derna – home to approximately 100,000 people – have reportedly collapsed, submerging much of the area and drowning some residents.
Authorities have consequently declared the port a "disaster city".
Hours after his government said the death toll was more than 150, eastern Prime Minister Osama Hamad told a Libyan television channel: "The missing are in the thousands, and the dead exceed 2,000… entire neighbourhoods in Derna have disappeared, along with their residents … swept away by water."
Mr Hamad did not give a source for his figures.
Alongside areas in the east, the western city of Misrata was among those hit by the floods.
Unverified videos of the storm have been circulating online, including a clip showing torrents of floodwater sweeping a man away. Other footage shows drivers trapped on their car roofs.
Alongside schools and shops, four major oil ports closed because of the storm.
While the Benghazi-based administration has been dealing with matters in the east of the country, the rival, internationally recognised government in the capital, Tripoli, has also been involved.
Its Prime Minister, Abdulhamid Dbeiba, said on Sunday that he had directed all state agencies to "immediately deal" with the damage and floods, while the United Nations in Libya said it was following the storm closely and would "provide urgent relief assistance in support of response efforts at local and national levels".
Libya has been divided between two rival administrations since 2014, following the killing of long-time leader Muammar Gaddafi in 2011.
Both governments declared three days of mourning after Storm Daniel swept in.
Last week, it struck Greece, Turkey and Bulgaria, killing more than a dozen people.
Egypt was on Monday bracing itself for Storm Daniel and in the evening, the nation's meteorological organisation said rainclouds had multiplied over the northwest coast.
Climate scientists have warned that global warming means more water evaporating during the summer, leading to more intense storms.
Source: BBC