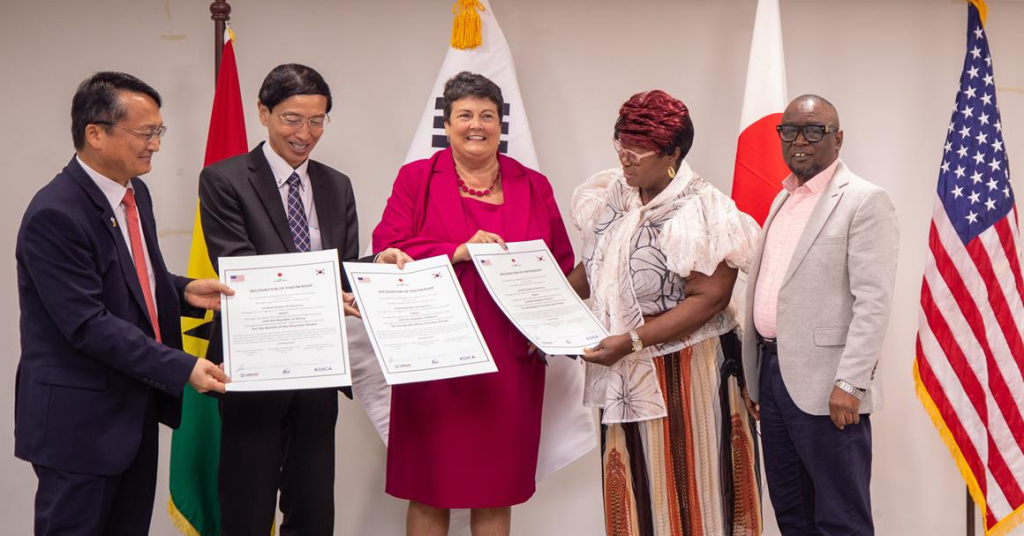 The Ambassadors of the United States, Japan and the Republic of Korea to Ghana, have announced a historic partnership.
This was at an event hosted by Health Minister Kwaku Agyeman-Manu on Tuesday, July 25.
This agreement between the three countries supports Ghana's goal of Universal Health Coverage.
The three countries' shared commitment will improve primary health care and strengthen global health security defences in Ghana against current and future pandemic threats – at a time when the world is emerging from the COVID-19 pandemic but with many countries experiencing backsliding in some essential health services.
The agreement signed today will help align individual countries' efforts, allowing each to focus on comparative strengths in support of Ghana's public health institutions.

"The United States is committed to working with our global partners to invest in primary health care and global health security," said U.S. Ambassador to Ghana, Virginia Palmer.
"No country can afford to stand alone during a pandemic. COVID-19 showed us the power of strategic partnerships with our allies to build a healthier, more equitable, and more prosperous world.
"We are proud to join Japan and the Republic of Korea in this partnership to achieve Universal Coverage in Ghana."

The Japanese Ambassador to Ghana, Mochizuki Hisanobu, said, "This MOC is the first of its kind between all parties and we aim to contribute further to the achievement of universal health coverage in Ghana with USAID and KOICA, by facilitating more efficient development aid.
"Together with our esteemed partners, we will be committed to ensuring we achieve this objective for the people of Ghana."
"Through this Memorandum of Cooperation, the Republic of Korea reaffirms its unwavering commitment to supporting Ghana in achieving Universal Health Coverage and strengthening health security.
"We will work hand in hand with our esteemed partners to improve primary health care services, ensuring that they are easily accessible and of the highest quality," said the Republic of Korea Ambassador to Ghana, Jung-taek Lim.
The three countries, through their respective development agencies – the United States Agency for International Development (USAID), Japan International Cooperation Agency (JICA) and Korea International Cooperation Agency (KOICA) – will leverage their individual expertise and resources to support three key health priorities in Ghana: (1) primary health care; (2) health governance at the sub-national level (regions and districts); and (3) global health security.
The partnership will build on Ghana's primary health care system – the Community-Based Health Planning and Services and health centres to strengthen the quality of health services.
The agreement comes at a pivotal time when public health experts are focusing on building capacity for the next epidemic or pandemic, yet health indicators including global life expectancy and childhood vaccinations are slipping.
Investments in primary health care and global health security are critical to allow countries to rebuild their health systems and prepare for current and future health emergencies.
The United States, through USAID, plans to invest up to $135 million through 2027, subject to appropriate approvals, in these efforts in Ghana.
KOICA will invest approximately $23 million and JICA will invest its technical and financial resources as approvals are obtained.