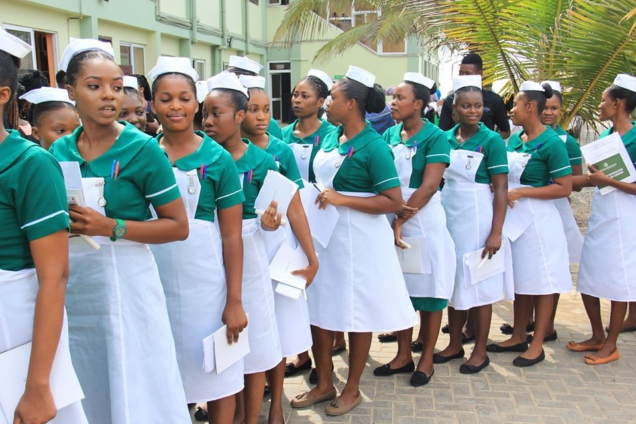 The Aflao Sector Commander of the Customs Division of the Ghana Revenue Authority, Assistant Commissioner Joseph Allan, has appealed to nurses and midwives to stay and offer their services to the citizenry.
He said nurses and midwives played an integral role in the healthcare system as they were responsible for providing care and support to families and communities including personnel under his Command, hence, the need for them to stay back and serve the country.
Assistant Commissioner Allan made the appeal through his representative at a ceremony to mark this year's 'Nurses and Midwives week celebration' at Aflao under the theme, "Our Nurses and Midwives, Our Future."
He said nurses and midwives might be facing challenges including poor working environments and conditions of service but that should not serve as motivation for them to migrate to other developed countries for greener pastures to the detriment of their home country saying, "without nurses and midwives, our future is not guaranteed."
"We sympathise with you on the challenges you face working in the country for which reason you may want to leave but you must know that there are challenges everywhere. God in His wisdom gave you Ghana. Stay, and serve the motherland."
"We celebrate Ghanaian nurses and midwives and those in Ketu South in particular. We are able to do what we do – collect revenue for the state because we are healthy as a result of the quality of care you give us when we fall sick and visit the health facilities," the Commander said.
Mr Courage A.Y.F Kwame-Kumah, Volta Regional Secretary, Ghana Registered Nurses and Midwives Association (GRNMA) said data available to the Association showed that "from ending of January 2022 to April 2023, some 9,000 nurses and midwives had cleared themselves to leave the shores of Ghana."
"The most pathetic part is that it is the professional and specialist class we are losing. The negative implications are already being felt in all our facilities and are getting worse by the day," he said.
Mr Samuel Kwaku Numana, Ketu South District Chairman, GRNMA said nurses and midwives continued to face challenges that must be addressed in the interest of all.
"Some of our challenges include but not limited to increasing workload as a result of the increasing migration of nurses and midwives; poor conditions of service including low salaries; logistical challenges including the lack of modern equipment for care; poor and unsafe working environments; unemployment of qualified nurses and midwives because they lose their skills while sitting at home; and lack of medical insurance."
Mr David Agbokpe, Ketu South Municipal Director of Health Services called on key stakeholders to support the cause of nurses and midwives whose role cut across every area of the healthcare system including administration and clinical, for a better future of healthcare.