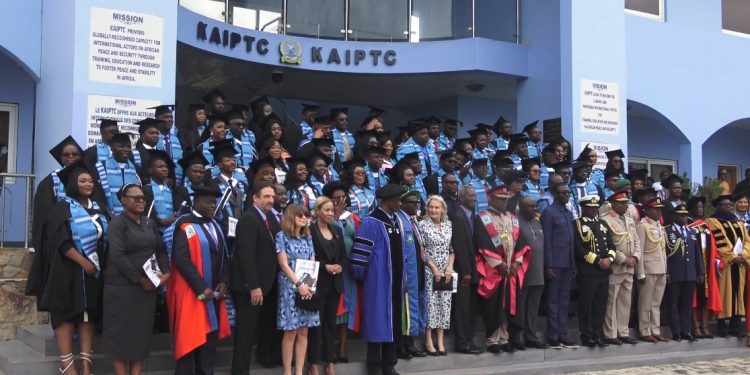 The Kofi Annan International Peacekeeping Training Centre (KAIPTC) held its 11th joint graduation ceremony for its students on June 8, 2023.
In total, 71 Master's degree students and 3 PhD students from Ghana, Burkina Faso, Cameroon, Côte d'Ivoire, Mali, and Nigeria graduated.
The ceremony was held under the theme "Centering African Peace and Security Thought in a Multipolar World."
Guest of honor and renowned economist Kwame Pianim spoke at the event, underscoring the importance of peace and security in promoting development.
"It is not often appreciated the importance of peace and security for steady and sustainable national development," he said. "Peace and security are primary and necessary requirements for development. They constitute a sine qua non condition and foundation upon which to erect a viable and lasting superstructure for economic and social progress."
Kwame Pianim further charged the graduands, who had passed through the Kofi Annan International Peacekeeping Training Centre (KAIPTC), to emulate the good character of the late UN Secretary-General.
"I trust that those graduands as you go out, you will try to emulate the character of Kofi Annan," he added. "It is not easy, they are large shoes but let's try to fill them."
Guest speaker of the program and President General of The Center of Awareness Global Peace Mission, Professor Samuel Ato Duncan, indicated in his address that peace will continue eluding humanity until it reconnects to its Creator.
The Chief Executive Officer (CEO) of COA Research And Manufacturing Company Ltd. noted that investments into peace have not achieved their desired results.
"You would all agree with me that the investments in peace and security globally are not commensurate with the outcomes thus far," he said. "A study by the Institute of Economics, Peace, and Security (IEPS) indicates that conflicts and violence cost the world more than $14 trillion dollars a year through military and security expenditures. The question then is: 'What are we doing wrong?' Let me announce to you that UNTIL HUMANITY RETRACES ITS ROOTS TO THE CREATOR, peace will continue to elude us."
Professor Samuel Ato Duncan also called for Africa to be given more representation on the UN Security Council to contribute to global debates on peace and security, stressing that the current composition was not representative enough.
"In a multipolar world, it is essential to include African viewpoints in global debates on peace and security," he said. "While the UN Security Council currently includes five permanent members with veto power, African countries have been left out, despite the continent's significant contributions to global peacekeeping missions. A more representative and inclusive United Nations Security Council would benefit not only African countries but also the international community as a whole."
Commandant of KAIPTC, Major General Richard Addo Gyane, on his part bemoaned the effect of globalization on African countries, even though it has facilitated increased connectivity and interdependence among countries and regions of the world.
He further observed that universities are being confronted with challenges such as students contracting others to conduct their research on their behalf, while others resort to using technology in conducting their academic papers. He indicated that KAIPTC has put in place measures to tackle such infractions.
"Universities the world over, are currently grappling with a diversity of challenges," he said. "Prominent among them has been the phenomenon of students contracting others to write their academic papers, which remains a serious form of academic dishonesty. The deployment of advanced technology, including Artificial Intelligence, is increasingly making contract cheating and other forms of academic malpractices more sophisticated and difficult to detect.
"Clearly, the phenomenon represents a critical threat to genuine scientific scholarship and discovery, with the potential to damage the reputation of academic institutions. We do not by any means intend to impugn the integrity of other academic institutions out there, but speaking for ourselves in this endeavor, I wish to say that the KAPTC has dared to be different. In order to avert this threat, therefore, the KAIPTC is critically reviewing and strengthening its quality control mechanisms to protect its hard-earned reputation."
SOURCE: CNR