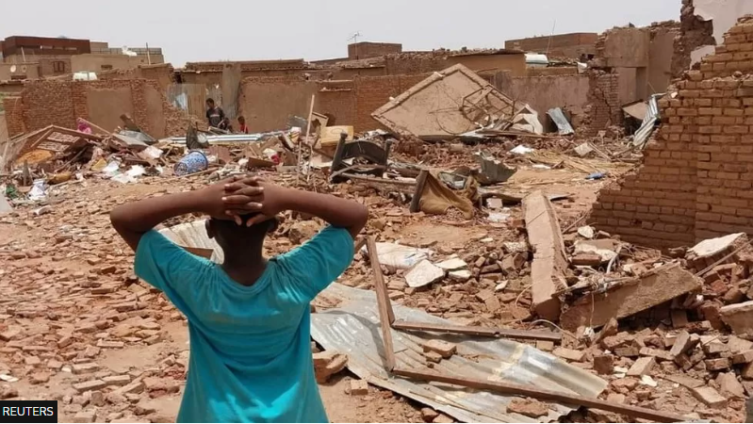 A former Sudanese politician wanted for alleged crimes against humanity has said that he and other former officials are no longer in jail.
Ahmad Harun was among those being held in Kober prison in the capital Khartoum who are facing charges by the International Criminal Court (ICC).
A ceasefire between Sudan's army and a rival paramilitary group still largely appears to be holding.
But there are doubts about both parties' commitment to a lasting peace.
In another development, a second evacuation flight rescuing UK nationals from Sudan landed in Cyprus, while a boat evacuating more than 1,600 people from dozens of countries has now arrived in Saudi Arabia.
Volker Perthes, who is the UN special envoy to Sudan and is currently in the country, said that it seemed the 72-hour pause in fighting was still being observed in some parts of Sudan.
But gunfire and explosions were reported in Khartoum and the nearby city of Omdurman.
"There is yet no unequivocal sign that either is ready to seriously negotiate, suggesting that both think that securing a military victory over the other is possible," said Mr Perthes.
The ceasefire, which began at midnight (22:00 GMT) on Monday, is the latest attempt to bring stability to the country after fighting broke out between the army and paramilitary Rapid Support Forces (RSF) on 15 April.
At least 459 people have died in this latest conflict so far, though the actual number is thought to be much higher.
Thousands more are reported to have fled Sudan and the UN has warned that this is likely to continue.
There is also concern for those who are left behind, with an estimated 24,000 pregnant women currently in Khartoum who are expected to give birth in the coming weeks.
Mr Perthes also said that many homes, hospitals and other public facilities had been damaged or destroyed in residential areas near the army headquarters and airport in Khartoum during the recent fighting.
Earlier this week, there had been reports of a prison break at Kober, where Ahmad Harun and the country's former President Omar al-Bashir were serving sentences.
On Tuesday, Harun confirmed in a statement aired on Sudan's Tayba TV that he and other fellow former officials who served under Bashir had left the jail but would be ready to appear before the judiciary whenever it was functioning.
Bashir is accused by the ICC of leading a campaign of mass killing and rape in Sudan's Darfur region and attempting to wipe out part of the Fur, Zaghawa and Masalit communities. He has denied the allegations.
He was ousted by the military after mass protests in 2019 and had been serving a jail sentence for corruption.
It is not clear if the 79-year-old was among those reported to have broken out of the prison as he has spent time at a military hospital in the past.
Harun has also previously denied the ICC charges against him, which are linked to the alleged inciting of violence against civilians in Darfur. He was arrested in 2019 following the coup that toppled Bashir.
Since then, the country has experienced frequent unrest and several other coup attempts.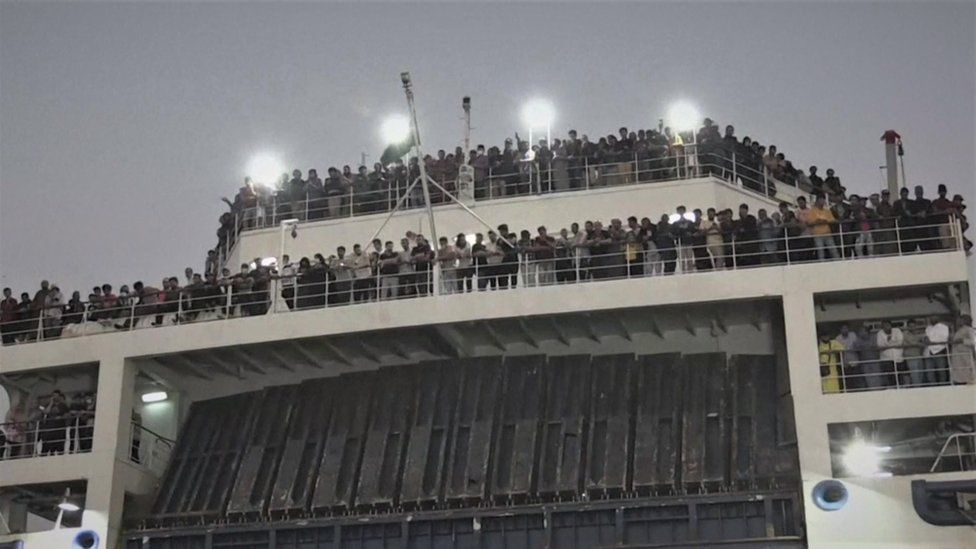 Source: BBC