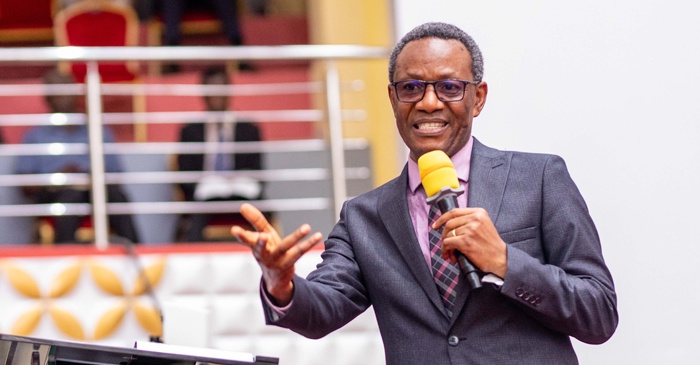 Apostle Alexander Nana Yaw Kumi-Larbi, the General Secretary of The Church of Pentecost, has urged church leaders to avoid destroying the brand of the church but purposely uphold and bequeath it to the next generation.
"Do not destroy the foundation of The Church of Pentecost brand, teachings and culture, rather improve on the brand for the next generation," Apostle Kumi-Larbi said.
He said this on Monday, February 20, 2023, during the opening of the 2023 Kaneshie Area Ministers and Officers' Retreat (Apostolisation) at the Kaneshie Central Auditorium.
Speaking on the topic, "Deepening The CoP Brand For Maximum Impact," the General Secretary said that the move to reposition the church in this generation is a clarion call to deepen its brand as a church.
Discussing the CoP brand, Apostle Kumi-Larbi said that apart from the covenant that God has established with the church, other things that guide officers and ministers on how to conduct themselves and lead the church are the tenets of the church, core values, church culture, and rules of conducts.
He iterated that these activities have given the church a unique and enviable brand which ought to be guarded jealously, saying, "All members of our church must brand themselves accordingly."
He added: "As custodians of the church, you are to jealously guard and protect the virtues and core values of the church from one generation to the other."
According to him, it is evident that this distinctive character of the church has contributed to building a strong church through selfless service, sound biblical teaching, good leadership and succession, evangelism and discipleship, sacrificial giving, fellowship and discipline.
"Do not be too concerned about the leadership and succession of the church for each one is working their salvation with fear and trembling," he stated.
He charged the leaders that the policies of the church which are the principles of action used to help achieve their goals, can be changed but the core values and rules of conducts do not change. He, therefore, admonished them to avoid substituting the brand of the church for anything.
The Church of Pentecost traces its origin to the ministry began by Rev. James McKeown in 1937, which culminated in the establishment of the Gold Coast Apostolic Church in 1953. When the Gold Coast attained independence and became Ghana, the Church became known as Ghana Apostolic Church. On the first day of August 1962, the Ghana Apostolic Church adopted the name "The Church of Pentecost" as its new name.
PENTECOST NEWS