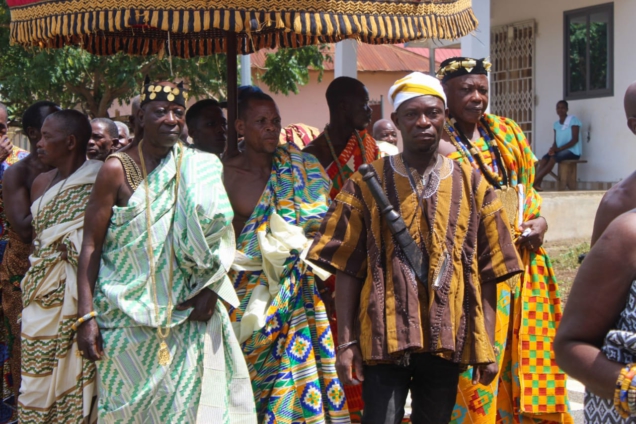 The Director of the Volta Regional Centre for National Culture, Bernice Ann Deh-Kumah has called on the Volta Regional Minister to complete the Volta Regional Theatre for the people of the region as a vehicle to preserve and promote culture.
She made this remark at the 60th anniversary celebration of this year's Regional Festival of Arts and Culture (NAFAC) dubbed; "Reviving Patriotism, Peace and Unity through Cultural Diversity for Sustainable Development" at Agogoe Lume, a farming community in the Ho Central Constituency of the Volta Region.
According to Mrs. Deh-Kumah, the festival is a courtesy call to revive lost culture, as indicated by this year's theme.
"It is no doubt that our culture lays emphasis on communal values such as family, respect for the elderly, honouring traditional rulers and the importance of dignity and proper social conduct because individual conduct is seen as having impact on an entire family, social group and community at large," Mrs. Deh-Kumah said.
In a speech read on behalf of the Executive Director of the National Commission on Culture (NCC), Madame Janet Edna Nyame noticed that, the world is restructuring itself through international cross-cultural linkages and therefore NAFAC must not be limited to the usual display of pomp and pageantry.
She also urged the nation to use the NAFAC's week-long celebration to highlight the cultural practices that has helped promote good virtues.
"The convergence and diverse cultural and artistic activities and performances during the week-long NAFAC celebration, present us with lots of opportunities we can take advantage of as a nation to highlight those cultural practices that have helped us to promote virtues such as patriotism, peace, truthfulness and respect for the elderly among others while we seek to perfect those ones that have the tendency to retard development," Madame Janet Edna said.
She ended her speech with a clarion call on all Ghanaians home and abroad to as a matter of patriotism; support this unique national event in whatever way they can to help promote the nation's local cultures to another level.
The Paramount Chief of Lume Traditional Area, Torgbe Agbenyo IV, also said his greatest desire is to see the youth of today promote, protect and preserve their cultures.
"It's my greatest desire that, the youth of today and especially the youth of Lume Traditional area will hold fast to our culture, promote it, protect it and preserve it. The youth of today are ignoring a lot of things as far as culture is concerned.
"The Regional Festival of Arts and Culture is one of the ways to revive our culture and heritage that is dying off slowly," Torgbe Agbenyo IV said.