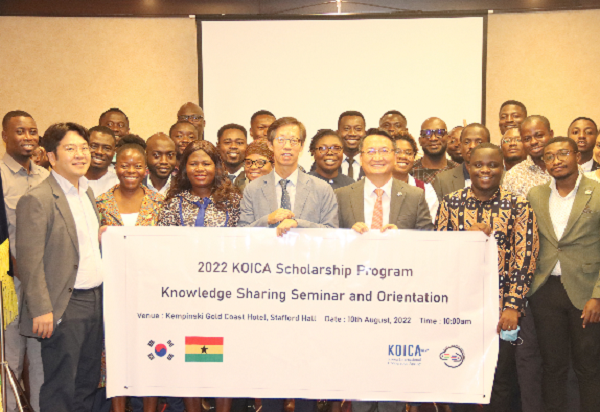 The Korea International Cooperation Agency (KOICA) has awarded fully funded scholarships to 39 Ghanaian government officials to pursue master's degree programmes at 18 universities in Korea.
The scholarship programme is funded by the Government of Korea, through the Capacity Improvement and Advancement for Tomorrow (CIAT) programme and seeks to contribute to the capacity development of government workers to help advance the socio-economic development of the country.
Speaking at a pre-departure orientation session for the scholars, the Korean Ambassador to Ghana, Jung-Taek Lim, stated that Korea's bilateral development cooperation strategy in Ghana focused on agriculture, public health, education and governance.
"We strongly promote participation in education as we believe in its power through the economic development we have gone through," he explained, adding that the initiatives so far were directly translating into the socio-economic growth and development of Ghana.
Adapt
Addressing the recipients, Mr Jung-Taek stated that they were bound to encounter some challenges in living and adapting to a foreign culture, but encouraged them to overcome those challenges for a successful stay in that country.
He assured them of a holistic academic experience and advised them to use the opportunity to explore every part of Korea before returning after the period of study.
Mr Jung-Taek further cautioned them against engaging in vices or criminal activities during their stay in Korea to prevent destroying the good reputation of Ghana, stating that "as scholarship awardees, you are brand ambassadors for Ghana and the Republic of Korea. It is your duty to promote each other country's shared democratic values, soft powers, tourism, culture and economic potential for growth".
He also mentioned that the awardees had been selected based on their accomplishments, potential and ability to inspire and lead others and encouraged them to pass on the knowledge they would acquire in their studies to their institutions once they return after the course.
Programme
The Country Director of KOICA, Heon Kong Moo, stated that the scholarship programme was globally competitive because it was open to 58 countries; 16 Asian countries, 23 African countries, 15 Latin American countries, five countries from the Middle East and five from the Commonwealth of Independent States.
He explained that since the inception of the programme worldwide in 1997, over 3,400 officials from 80 countries had been trained in Korea, with an average of 400 applicants every year.
"KOICA Ghana Office started the scholarship programme in 2010 and from that year till 2021, 268 government officials have received their degrees," he stated, adding that since its commencement, the number of beneficiaries from the country kept increasing and had topped the list of countries with the highest scholarship selectees for the past three years.
This year, 190 government officials applied for the scholarship, he stated, out of which, 39 were selected after going through the required processes.