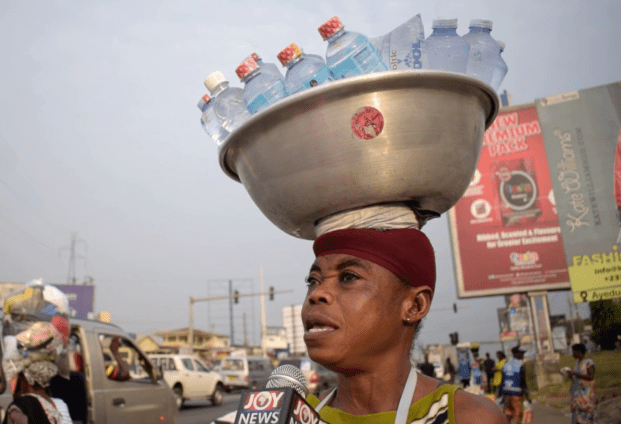 The Food and Drugs Authority has refuted reports that certain sachet water sold in Ghana contains microbes.
According to the Authority, laboratory testing and surveillance indicate the products are safe for consumption.
Last month, the Director of Field Operations with the Ghana Statistical Service, Dr. Peter Takyi Peprah made the assertion at a press conference to announce the results of an investigation into the caliber of market-available sachet water.
"We must pay close attention to those involved in the production of sachet water. In 2017, we conducted a multiple indicator cluster survey in which we not only collected information about drinking water sources but also tested the quality of these drinking water sources for a household. We discovered that 34.1 percent of household drinking water sources are contaminated with feces.
"Fecal contamination simply means that we have toilet waste in our water," he explained.
But the Association of Sachet and Packaged Water Producers dismissed the claim, calling the research unreliable and careless.
"The report was done in 2017 and if there is no malicious intent, you waited for five years before dropping a bombshell using bad wording to say sachet water is contaminated? This is not true. It's unfortunate and we reject this report. The water we use is clean; the source can be challenged, but that is why we treat it using a solid and rigorous filtration system with a regulator, which is the FDA," President of the Association, Magnus Nunoo said.
Subsequently, the Food & Drugs Authority also issued a statement in response to the allegations.
According to the Authority, the sachet water is produced using filtration/reverse osmosis to remove extraneous material and UV sterilization to kill any potentially hazardous bacteria.
It says testing is done in labs as part of the FDA registration procedure to determine whether or not microorganisms are present, which is a crucial factor in the safety of drinking water.
It added that tests for E.coli, total coliforms, Aerobic Plate Count, and others are conducted.
The Authority is urging the general public to only purchase bottled and registered sachet water made in Ghana and with the FDA product registration information.
It is advising the public to report any unregistered bottled water and sachets to the FDA office that is closest to them for action.