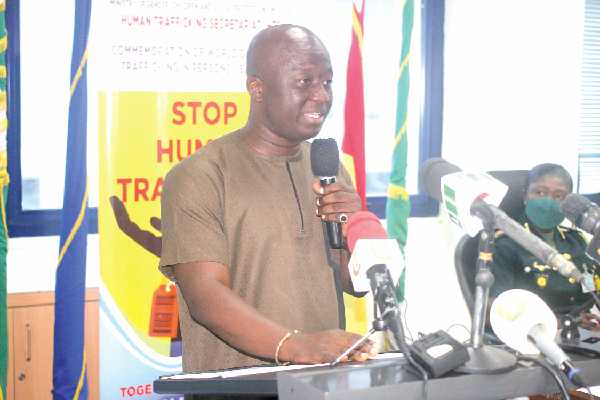 The Ghana Civil Aviation Authority (GCAA) has held a forum on human trafficking for stakeholders in the industry.
The event, which was organised in collaboration with the Ministry of Gender, Children and Social Protection (MoGCSP), was aimed at empowering participants to identify victims and also ensure compliance with counter-trafficking activities.
Commitment
The Deputy Minister of Transport, Fred Adom Obeng, said his outfit was committed to deepening collaboration with the relevant stakeholders to pursue strategies that would ensure that the aviation sector was not used as transit for human trafficking.
According to him, the importance of the aviation industry could not be over-emphasised, saying that "it is one of the most efficient means of connecting people, cultures and businesses across continents".
"It provides the only rapid worldwide transportation network essential for global business. It propels economic growth, creates jobs and facilitates international trade and tourism," he added.
However, he said it was also one of the transportation modes used by transnational criminal organisations whose activities included trafficking, illegal trade and smuggling.
Mr Obeng pledged the support of the ministry and its agencies to ensure that compliance with counter-trafficking activities and the implementation of policy standards and requirements on trafficking in persons succeeded.
The Deputy Director-General of the GCAA, Juliet Aboagye-Wiafe, said the aviation industry was one of the primary modes of transportation used by traffickers.
"Due to the growing number of victims being transported by air, the training of aviation personnel, including cabin crew, to identify and respond to trafficking in persons has become necessary in the global crusade against this crime," she said.
The Regional Commander of the Ghana Immigration Service at the Kotoka International Airport, Edith Penelope Arhin, said the service was one of the key stakeholders in combating human trafficking.
She said her outfit had established an anti-human smuggling and trafficking in person unit to contribute to the fight against the menace by providing protection and assistance for victims and also prosecuting perpetrators.
Activities
The Head of the Human Trafficking Secretariat at the MoGCSP, Abena Annobea Asare, said human trafficking, irregular migration and gender discrimination were cross-cutting issues that affected men, women, children and other vulnerable groups.
According to her, there was evidence of cross-border trafficking in the country, especially labour and sexual exploitation.
"Our girls are trafficked to most of the Gulf countries to be exploited sexually. Some come back with horrible news and detailed levels of abuses. The airport has not been spared, as these fraudulent agents are sometimes aided by some officers, knowingly and unknowingly," she added.