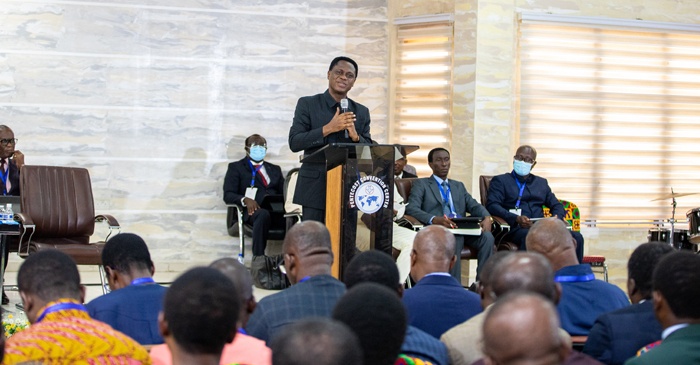 After two years of COVID-19 disruptions, the National Prayer Conference of The Church of Pentecost, a gathering of Prayer Centre Leaders of the Church, is underway at the Pentecost Convention Centre (PCC), Gomoa Fetteh.
The three-day event was officially opened today by the Chairman of the Church, Apostle Eric Nyamekye, and is under the theme: "Equipping the Church as an Army to Possess the Nations" (Ephesians 4:11-12; 6:10-11; Hebrews 13:20-21).
Participating in the event are 119 church leaders, including ministers and officers of the Church, drawn from the 34 prayer centres approved by The Church of Pentecost.
In his opening message to participants, the Chairman stressed that beyond the grace and gifts of God, the ultimate goal of every Church leader must be to have their names written in the Book of Life.
Reading from 1 Corinthians 12:7, Apostle Nyamekye said that God gave giftings for the common good of the Church and for this reason those who are gifted should not seek to use it for their gain.
He indicated that, although the gifts may vary, they are given by the same Spirit. He said that since everyone has been endowed with a gift (or gifts) in the Church, Church leaders ought to be humble and not pride themselves in a particular gift they have received.
Expounding further, the Chairman said that no one gift is enough to build a Church of God, rather, there must be the manifestation of multiple giftings for a church to thrive.
"The gift of healing is not enough to build the Church of God because it takes other gifts to disciple members and lead them to heaven. So, you cannot build a church with one gift," he said
He further noted that the gifts are given to bring glory to God, as a result, recipients of these giftings must ensure that they project Christ and not draw praise to themselves.
Apostle Nyamekye, therefore, urged church leaders not to only rely on their gifts, saying: "You are greater than your gifts because all gifts will pass."
The National Prayer Conference is an annual event of The Church of Pentecost aimed at equipping Prayer Centre leaders and orienting them on the Church's guidelines for operating such centres.
PENTECOST NEWS.