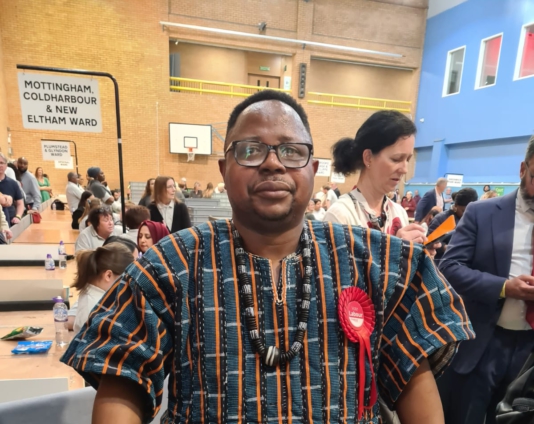 A former Ghanaian Police officer who is also a specialized Renal Rurse has been elected as the Deputy Mayor of the Royal Borough of Greenwich in Greater London.
Councilor Dominic Mbang was re-elected on May 5, 2022, in the local government elections in the UK for the Woolwich Dockyard ward. He was unanimously elected as a Deputy Mayor for the Royal Borough of Greenwich on May 5, 2022.
In his new role, Councilor Mbang will be assisting the Major.
The Mayor's major responsibility is to preside over full council sessions and ensure that the proceedings are conducted appropriately and that all points of view are heard. The Mayor must remain politically neutral during their term in office.
Residents often consider the Mayor as a defender of rights, and they will make recommendations to them in the hopes that they would be able to help them.
Mr. Mbang possesses a wide range of leadership skills, including those related to labor relations and community development, and public service.
Between 1994 to 1998, Mr. Mbang was a member of the Ghanaian Police force. Due to his professional skills, qualifications, and experience, he began as a Police sergeant.
Mr. Mbang attended Kuka Zuli Primary School and Kuka Middle School in the Bawku Municipality before enrolling at Notre Dame Seminary Secondary School to complete his Ordinary Level Certificate.
He went on to Acherensua Secondary School and earned his Advanced Level Certificate there.
He then went to the Bawku Nursing Training College, where he was among the pioneers in the State Registered Nursing programme (C1).
Mr. Mbang worked for 5 years in Bawku and St Elizabeth hospitals in Hwediem, then in the Brong Ahafo Region, now the Ahafo Region, before joining the Ghana Police Service and working in the Police Hospital before relocating to the United Kingdom.
In the UK, Dominic completed his specialization as a Renal Nurse Specialist at Kings College in the United Kingdom and has since worked in the UK NHS for the past 23 years as a specialist Renal Nurse and Senior Complex Discharge Co-ordinator.
He went on to Greenwich School of Management for a post-graduate diploma and the University of Hull for an MBA. Dominic later went on to study Business, Real Estate Development, and other specialties in health services among others.
Mr. Mbang is a politician and unionist who combines British and Ghanaian politics and currently chairs the Ghana Greenwich Association. He has facilitated several Ghanaian activities and programmes in Greenwich and has traveled to Ghana with fellow councilors to Tema for exchange programmes on the Greenwich Tema Town twinning.
Mr. Mbang is also the Chairman of the NDC-UK & Ireland Chapter's London South Branch and previously served as the NDC-UK & Ireland Chapter's Organiser and Acting Chair.
He has motivated many BAME members to join the Labour Party as a previous constituency minority officer in the constituency and held various positions in the past including being the current Ward Organiser.
Mr. Mbang received the 2021 category of Diaspora support to Kusaug for his humanitarian work, He was 34th Samanpiid just ended 2021 Festival Chairman. Among his humanitarian works include, among other things, reconstructing the original Kuka Zuli primary school, excavating three boreholes for three towns, and providing literature to local churches and schools/colleges.
He also built an eight-block Charity Primary School (Cambridge International) in the Habitat area near Kintampo, with around 60 pupils ranging from nursery to primary three, and has been paying the instructors and supporting the school personnel for the past six years.
Dominic believes in supporting and empowering communities no matter how little and encourages fellow diasporans, businessmen and women, politicians, and the general public to do so.
Mr. Mbang openly portrays Kusaug's, the North's, and Ghana's culture and heritage in the United Kingdom.
He is a community activist, organiser and someone who is passionate to help his community, a peace advocate and working in unity, be it in the UK or his native country Ghana for community and national development.
His appointment is a great honour to his cherished residents in the Royal Borough of Greenwich, his native country Ghana, and the Kusaug Kingdom.
For the next 12 months, Councilor Dominic Mbang will serve as Deputy Mayor for the Royal Borough of Greenwich and by his grace and the support of his fellow councilors will assume the Mayorship after one year.
SOURCE: Myjoyonline.com