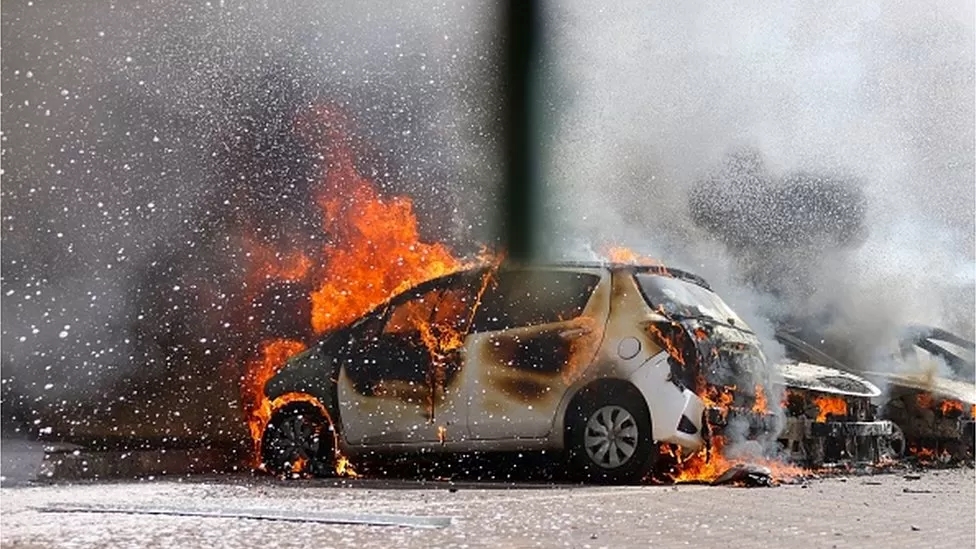 Twelve Thais have been killed and another 11 kidnapped in the conflict between Israel and Hamas militants.
Another eight Thai nationals have also been injured, said Thailand's foreign ministry on Monday.
The ministry added that air force planes are on standby to fly its citizens home.
There are some 30,000 Thais in Israel, working in fields such as nursing and construction, alongside workers from more than 50 countries.
Labour minister Phiphat Ratchakitprakarn told AFP that some 5,000 Thai labourers work in the fighting zone, but that Israeli forces had begun moving them to safety. He added that 1,099 workers have registered to return home.
Workers at a farm in Mivtahim, a town near the Gaza Strip, described Hamas militants storming their farm after rockets were fired in the early hours of Saturday.
"The Hamas militants fired a rocket first, then they stormed our farm. I had to run and hide in my bedroom," Udomporn Champahom told the BBC on Saturday.
Mr Udomporn was later rescued by Israeli soldiers. He said that a fellow Thai who was with him at the time is recovering from a gunshot wound "as big as a bottle cap" on his leg.
Another Thai worker told the BBC: "I was running and crawling underneath a truck then the Hamas pulled me out and pointed the gun at me at point blank before firing to the ground." The worker, who declined to be named, later managed to escape.
Wanida Maarsa told BBC Thai that her husband Anucha Angkaew, had been working on an avocado farm for almost two years, was one of those taken captive by the militants.
He appeared in a video Hamas put out over the weekend. "[The man in the video] is absolutely him," she said.
"I have not been able to contact him since 02:00 Bangkok time (19:00 GMT on Friday). I talked to him just before our daughter went to sleep," Ms Wanida added.
Several other countries, including the US, Nepal and Germany, reported that their citizens have been killed, abducted or are missing amid the ongoing unrest in Israel.
One of them is Nepal, which confirmed on Sunday that 10 Nepali students had been killed.
They had gone to Israel to work and acquire skills in an agricultural firm. An additional 265 Nepali students are also working on various Israeli farms, with another 4,500 Nepalis working as caregivers.
Israeli police also informed the Nepali Embassy that another Nepali citizen is missing and four others injured, one of them seriously.
Separately, India said that it is working "actively" to bring back its nationals in Israel.
According to media reports, there are around 18,000 Indian nationals living and working in the country.
Source: bbc.com