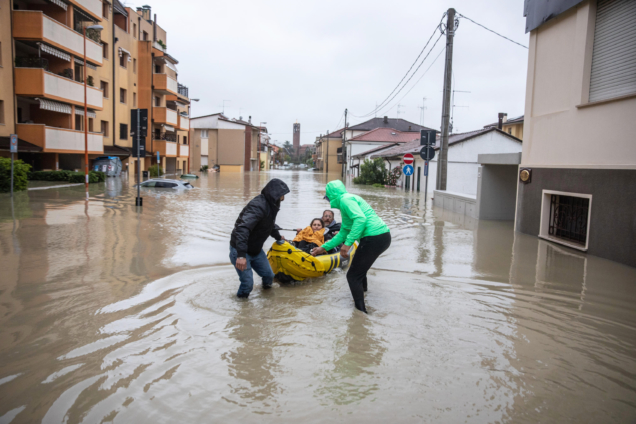 More than 20 rivers have burst their banks in Italy, leaving 13 people dead and forcing thousands from their homes after six months' rainfall fell in a day and a half.
More bodies were found on Thursday after almost every river flooded between Bologna and the north-east coast 115km (70 miles) away.
Some 280 landslides have taken place.
The mayor of Ravenna, a city badly affected by flooding, told the BBC it was the worst disaster in a century.
Michele de Pascale described the damage caused by the floods as catastrophic, costing people in his city and the wider region their homes, possessions and for some, their lives.
"It was a very bad 48 hours. Water and mud took over our whole village," said Roberta Lazzarini, 71.
Her home of Botteghino di Zocca, south of Bologna, was hit by a torrent on Wednesday. Streets, houses and gardens were inundated and Roberta said she was still scared.
"I've never seen anything like that here. We were stuck and didn't know what to do. I just hope it doesn't happen again."
Firefighters helped residents flee their houses, including a 97-year-old woman who had to leave her bedroom in a rubber dinghy.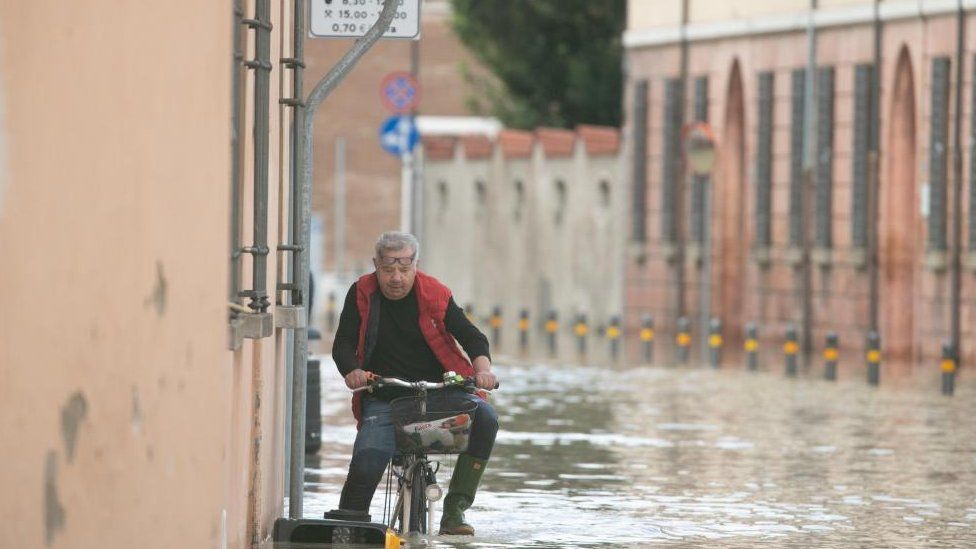 "Our community is broken," said Roberta's daughter, Ines, who runs the local cafe in the central square. "We felt completely cut out, isolated, some of us were truly terrified."
"We've had floods before, but it has never been this bad as far as I can remember," said Lamieri, 74, as he removed mud from his basement, where his son stores products to sell at the souvenir shop he runs in central Bologna.
"The street turned into river. We lost all of our stuff which was stored down here. We estimate thousands of euros in damage."
This is one of many villages and towns flooded in the province of Emilia-Romagna, not just from rivers, but overflowing canals too.
More evacuations took place west of Ravenna on Thursday and more bodies were found, including a couple in a flat in the village of Russi, which was flooded hours before.
Many are warning that Italy needs a national plan to respond to the effects of climate change.
Civil Protection Minister Nello Musumeci said tropical conditions had already reached Italy, with 20cm of rain falling in 36 hours, and in some areas up to 50cm.
"Soils that remain dry for a long time end up becoming cemented, drastically limiting their capacity to absorb water," he said.
No regional dams had been built for 40 years, he said, and a new approach to hydraulic engineering engineering was needed.
Prime Minister Giorgia Meloni's government has called a crisis meeting next Tuesday.
The leader of Italy's opposition Democratic Party told the BBC the whole political system was to blame for the disaster and politicians had not done enough to address challenges posed by climate change.
Elly Schlein, who was formerly vice-president of Emilia-Romagna, said successive governments had consistently failed to address Italy's vulnerability to flooding and other extreme water events like droughts.
Many factors contribute to flooding, but a warming atmosphere caused by climate change makes extreme rainfall more likely. Already, the world has warmed about 1.1C since the industrial era began, and temperatures will continue to rise unless governments around the world make steep cuts to emissions.
Antonio Francesco Rizzuto, a 55-year-old lawyer who lives by the river with his wife, was forced to leave on Tuesday night and is now living at his daughter's in a nearby village.
"It was something no-one was expecting in these proportions," he said. "Before we left our house, the water level was getting higher by the minute. When we got back yesterday… our living room was completely submerged. We will have to throw away most of our furniture."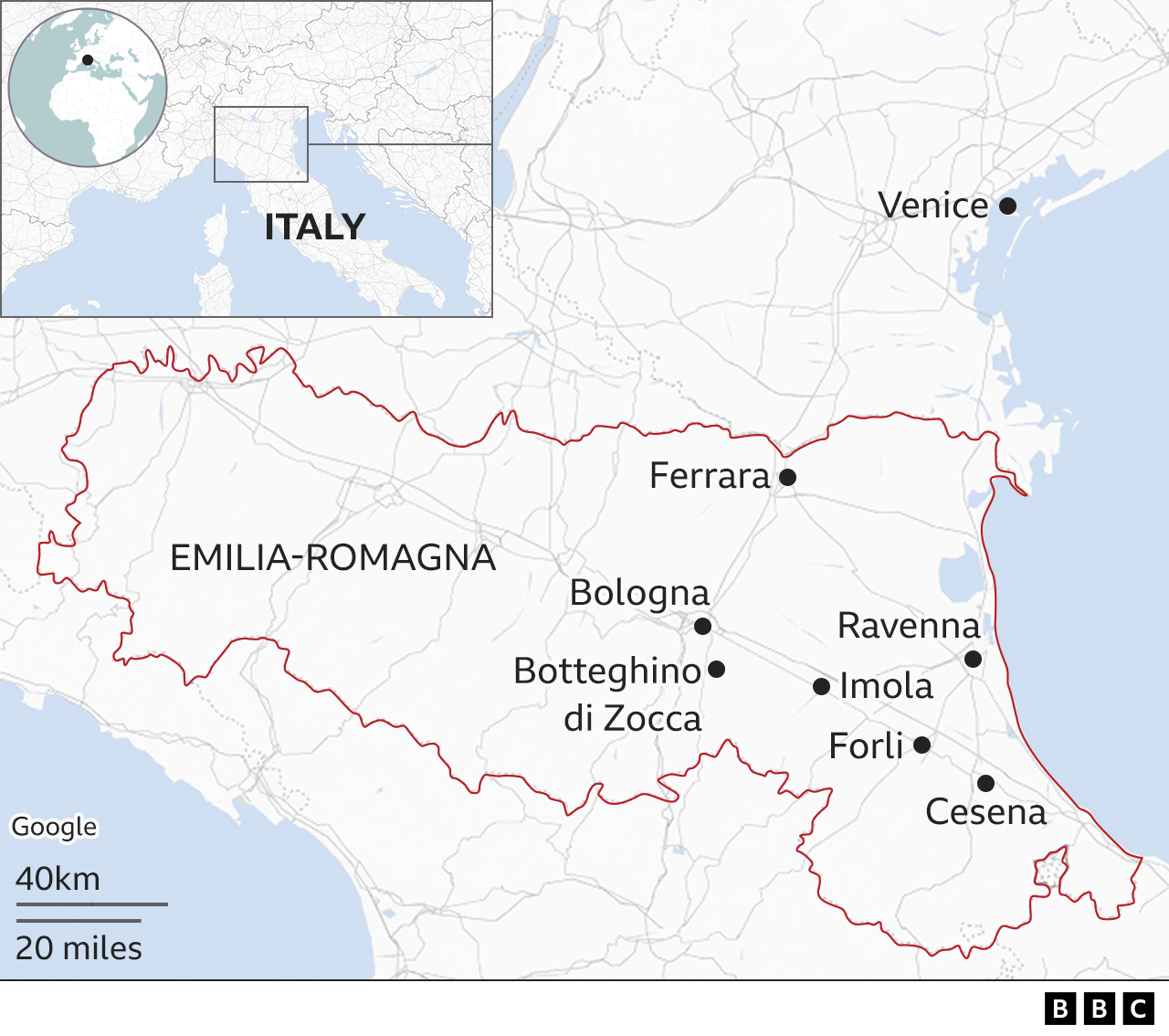 Stefano Bonaccini, regional president of the Emilia-Romagna region, said the damage costs ran into billions of euros.
Overnight, evacuations were ordered in towns to the west of Ravenna. Residents in Villanova were ordered to seek shelter on upper floors, a day after floodwater cascaded through the historic centre of Lugo.
Lugo was flooded again on Thursday, as was Cervi, on the coast.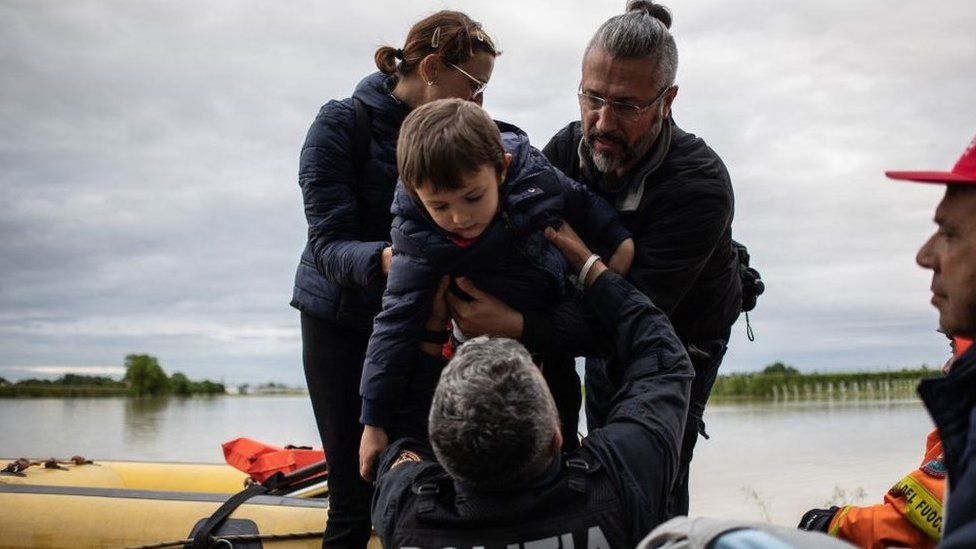 This weekend's Emilia-Romagna Grand Prix at Imola was called off because of the risk of the nearby Santerno river flooding. Many of the areas around the track used for parking and watching the race were deluged on Tuesday.
As well as the 23 rivers that burst their banks, the Zena stream turned into a raging torrent in Botteghino di Zocca.
Lino Lenzi, 80, was standing in what used to be his daughter's garden, which was now overflowing with mud, his grandchildren's toys submerged.
"I've lived here for 70 years and I've never seen anything like this," he said, "the water is everywhere."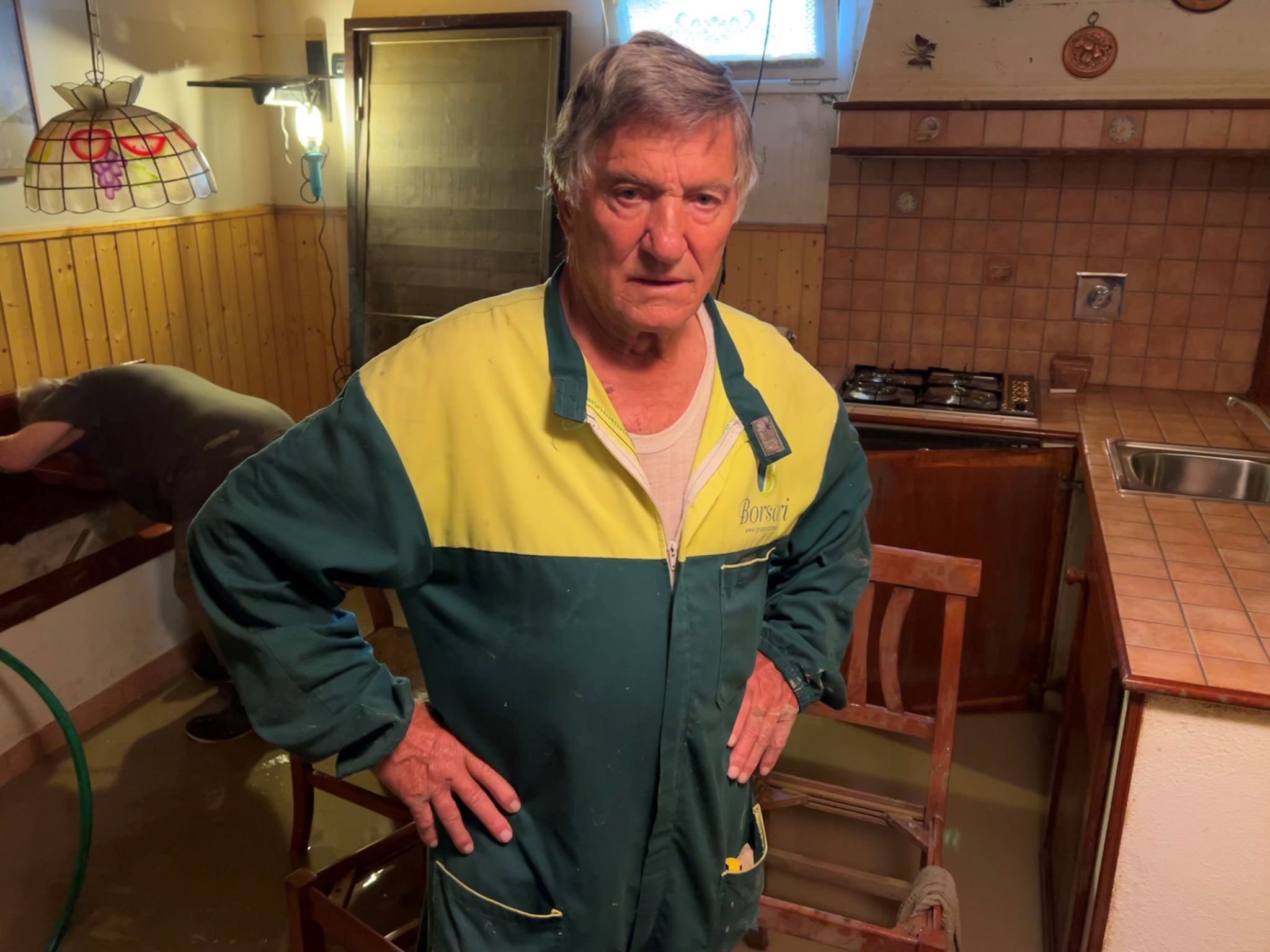 The house has belonged to the family for generations and his daughter had just finished renovating it.
Inside his kitchen, the water is is up to our ankles. The day before, it was more than 2m (6.5ft) high.
"We've had to get rid of the water with everything we've got: buckets, pots and pans."
Lino complained the local rivers had not been dredged for years.
"No-one has showed up to help. We've received zero help from the government or local authority,"
Rescue operations have proved difficult because so many roads have been flooded and many towns have gone without electricity.
The only help Lino had was from a teenage boy who lives near by. "He walked past and saw that we needed help. He helped us move our furniture."
Source: BBC